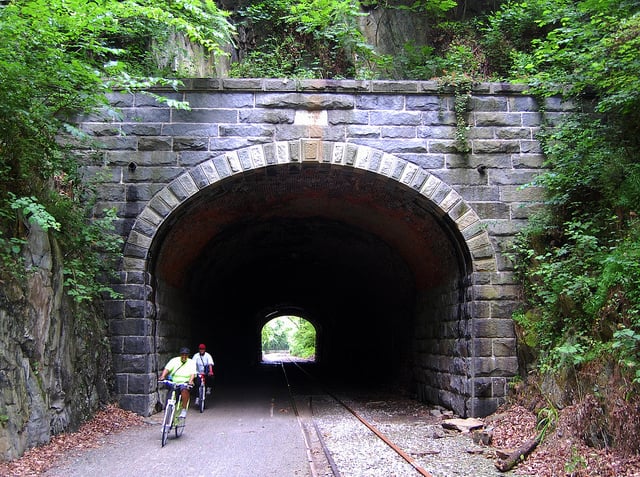 Hans Lovejoy
Funding is available for a feasibility study into the development of a rail trail on the Casino to Murwillumbah rail line, says minister for the north coast, Don Page.
The push has had a mixed reaction, with Northern Rivers Rail Trail Inc (NRRT Inc) warmly welcoming the announcement, while train advocate Karin Kolbe from TOOT (Trains On Our Tracks) voiced concerns that the tracks would be covered and a temporary bike path constructed over the rails. She told The Echo, 'We need to have  bike tracks beside the rail, or be able to take our bikes on the train.'
Mr Page, when asked if he advocated a rail trail beside the rail or on the railways, said, 'The rail trail would be for the most part on the existing track area and certainly within the rail corridor.'
Mr Page also said, 'The corridor will be kept intact, not sold, and be preserved for the possible re-introduction of rail services, should a viable economic model for trains become available at some stage in the future. The potential benefits for tourism and employment are significant. It would also deliver health and social benefits.' He added, 'The official terms of reference will be finalised in the next few days prior to going out to tender.'
The previous rail study of the region, which cost $2m, was blasted back in March by the Greens and TOOT for its narrow terms of reference, the exclusion of light rail, lack of comprehensive ground truthing and a bloated figure of repair comparative to an earlier Price Waterhouse Coopers report in 2004. In regard to the shire's high visitor numbers and if rail could alleviate the pressure, NSW transport minister Gladys Berejiklian told The Echo at the time, 'The needs and travel patterns of tourists were considered in detail in the development of the study, and it found tourists do not form a large proportion of public transport users'.
And despite criticism of a flawed report, Mr Page referred to the 130-page Casino to Murwillumbah Train Study and backed his party by claiming rail is not an option as it 'wouldn't meet the current or future public transport needs of the region because two of the three largest centres (Ballina and Tweed Heads) would not be served'.
Meanwhile NRRT secretary Steve Martin said of his not-for-profit group: 'We now have close to 5,000 community supporters, as well as backing from local government, tourism and chambers of commerce.'
NRRT was formed by a steering committee comprising local business philanthropists (known as the Sourdough Group), community volunteers, local councillors and people working in the tourism industry.
Its chairperson, Pat Grier, says 'The rail trail would act as the spine that links a network of communities, regional towns and villages. It would provide the platform for economic development, new businesses and jobs for the region.
Mr Martin added, 'Instead of the land gradually being overgrown it can become a drawcard for tourists and revitalise many smaller villages along the track.'