A glorious day of junior football played out at Oakes Oval on Sunday as the Grade 12 to Grade 15 teams battled out their finals.
The proved that the standard of junior football on the far north coast is really high and players and coaches should be really proud of their efforts.
Some of the parents of winning teams have sent in photos. We invite all players and parents of all teams in all sports to send in their snaps from local competitions.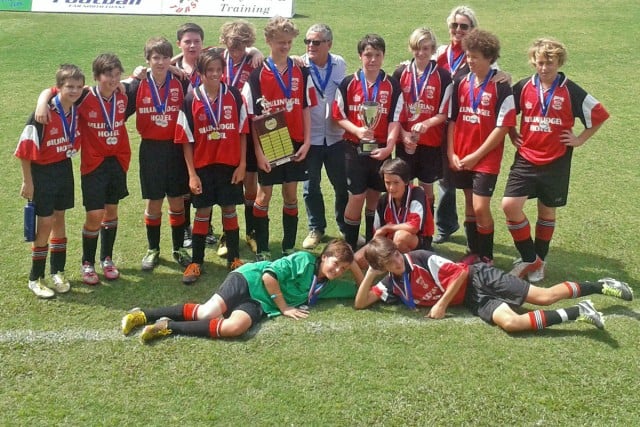 The results for last Sunday's Grand Finals:
Grade 12/2nd North – Eureka 3 d Tintenbar 1
Grade 12/2nd South – Nimbin Headers 1 d Goonellabah 0
Grade 12/1st Division – Lismore Thistles 4 d Bangalow 2
Grade 13/2nd North – Shores United 3 d Ballina
Grade 13/2nd South – South Lismore 3 d Lismore Workers 1
Grade 13/1st Division – Italo Stars 2 d Alstonville 1
Grade 14/2nd – Mullum Brunswick 5 d Byron Bay 1
Grade 14/1st – Altsonville Wizards 3 d Byron Bay 2
Grade 15/2nd Division – Richmond Rovers 4 d Mullum Brunswick 3
Grade 15/1st Division –  Casino 4 d Mullum Brunswick 2
There will be more Grand Finals played out at Oakes Oval this weekend. For more information visit the Football Far North Coast website.