[10.15] Tony Abbott has claimed victory: 'The government of Australia has changed for just the seventh time since 2001 and the Labor Party's vote is at its lowest level in more than 100 years.'
'Today the people of Australia have declared that the right to govern this country… belongs to the people of Australia… and you will punish anyone who takes you for granted. And that's as it should be in a great democracy such as ours.'
Mr Abbott said he would lead 'a government of no surprises and no excuses, and a government that will be judged more by its deeds than its words.
'From today I declare that Australia is under new management and Australia is once more open for business.
'A good government is one that governs for all Australians, including those who haven't voted for it… we will not leave anyone behind.
'I thank you, the people of Australia, for giving me the greatest honour and the heaviest responsibility that any member of parliament can have… I pledge myself to the service of our country.'
[9.58pm] Kevin Rudd says he will not recontest the Labor leadership. He said it's time for renewal and the party to get behind a fresh new leader.
[9.42pm] Kevin Rudd has admitted defeat at the 2013 elections, accepting responsibility. He has said he will not recontest the leadership of the ALP but he has not said he would resign as the Member for Griffith.
'I gave it my all but it was not enough for us to win. I am proud that despite all of the prophets of doom that we have preserved the great Australian Labor Party as a viable fighting force for the future. And I am also proud that, despite the pundits, we appear to have held every seat in Queensland,' he said.
'I am proud that every cabinet minister has been returned at this election and I am proud that almost all the members of our executive have been returned as well.
'Our party has known defeat before but throughout our history we have always risen from defeat to renew our party with new ideas for the future.'
[9.37pm] Richmond MP Justine Elliot says retaining her seat in Richmond for Labor against the national tide was a clear reflection of the community's concerns over coal seam gas (CSG).
'It was very clear many voters were worried about the future of our area with the threat of CSG mining and exploration,' Mrs Elliot said.
'This certainly sends a clear message about our campaign to stop CSG and we'll continue that especially with the Nationals threatening to pave the way for it here.'
The sitting MP, who has held her seat since 2004, told Echonetdaily the two-party preferred vote showing she had a nine per cent buffer over the Nationals' Matthew Fraser, was 'looking pretty good for us'.
Mrs Elliot had campaigned strongly in the past year against CSG, while the Nationals' candidate Matthew Fraser dismissed it as a major issue, and bore the brunt of community anger as a result.
Mr Fraser's comments that there were no viable CSG deposits in Richmond, despite the interest from major mining companies, also drew ridicule from anti-CSG campaigners.
With 61.02 per cent of the vote counted in Richmond so far, Mrs Elliot had 54.23 per cent of the two-party preferred vote against Mr Fraser's 45.77 per cent.
The Greens' Dawn Walker agreed the CSG issue had played a major role in a strong showing for parties campaigning against it, saying it was the 'biggest concern' for voters in Richmond.
'They were worried about the Nationals threatening to "let it rip" before Christmas and people were becoming really concerned about it,' she said.
Mrs Walker said she was 'thrilled to bits' with the Greens swing in Richmond of over 2.5 per cent and a strong showing with almost 20 per cent of the primary vote.


[9.30] Luke Hartsuyker has comfortably retained his seat of Cowper on the mid-north coast.
ABC computer predicting ALP winning 57 seats and coalition about 89.
[9.24] Re-elected Greens' MP Adam Bandt says 'a significant part of the Australian population who doesn't want this election to be a race to the bottom. And they have found a voice in the seat of Melbourne.'
Bandt increased his swing by around 7 per cent, with a primary vote of around 44 per cent. Some of these supporters, he claims were 'small L Liberals'.
[9.18] Outgoing PM Kevin Rudd has retained his seat of Griffith. The man some have described as challenger-in-waiting, Bill Shorten, has refused to be drawn on whether Rudd will stay or whether he will be a future leadership contender.
[9.13] Justine Elliot has retained the seat of Richmond for the ALP. Echonetdaily's Luis Feliu is contacting her for comment.
[8.28] Tanya Plibersek says the ALP are still confident of Janelle Saffin retaining Page but the AEC is predicting the Nats' Kevin Hogan will win the seat.
Hogan is ahead of the sitting member by about 4,000 seats but the Greens' Desley Banks is sitting on 4,081, most of which will go to Saffin on preferences and Palmer United's Stephen Janes is on 3,070. As has been shown in Qld, PUP party voters don't necessarily preference the conservatives. But the ABC is calling it for Mr Hogan.
Earlier today at the Ballina High School polling booth, she told Echonetdaily's Eve Jeffery, 'I feel quite calm and a quiet confidence. That's how I feel and I have also got a confidence in the record of achievements that I have and know that can't be taken away from me no matter what – they are legacy things for our community. You know, I am in politics to make a difference in our communities and for families and that's what I have done and will continue to do it.'
[8.17] The disaffected Labor vote in Qld seems to have gone to Clive Palmer, rather than Bob Katter, picking up more than 11 per cent of the vote. Current ABC predictions have LNP on 77, ALP on 551 and Greens on 1.
Clive Palmer himself is claiming victory in the seat of Fairfax, which as some disaffected pundits have claimed, 'just goes to show that money can buy votes'.
In Victoria, flaky Liberal Sophie Mirabella looks like coming up second to a local independent.
[8.07] Christine Milne is predicting Cate Faehrmann will win the sixth senate seat in NSW, although Anthony Albanese's seat of Grayndler in Sydney, which they saw as their best hope in this state has been held for the ALP.
Labor's Daryl Melham says he hasn't given up in Banks.
Three Labor seats have fallen in Victoria. Labor holding up well in SA.
[7.52] If the Greens haven't done well elsewhere in NSW, their vote has certainly held up in Richmond, where Dawn Walker has almost 20 per cent of the primary vote. Most of her preferences will go to ALP's Justine Elliot, which will see her comfortably returned.
Earlier today Dawn told Echonetdaily's Eve Jeffery, 'I'm feeling fantastic, it has been a great campaign, we've had a lot of support and really a very warm response to the Greens' message of protecting our environment and looking after those most vulnerable.'
Justine Elliot, told Eve that CSG would be an important factor in people's voting intentions, and so it seems: 'the issue of Coal Seam Gas mining comes up as well. We are very committed to stopping it here on the north coast, so people have been talking about that as well.'
Adam Bandt looks set to retain his seat of Melbourne for the Greens.
Labor is claiming it will retain all of its seats in western Melbourne and all of its seats in Queensland.
In a remarkable achievement, maverick first-time politician Clive Palmer looks set to gain the seat of Fairfax. Barnaby Joyce has easily won the seat of New England.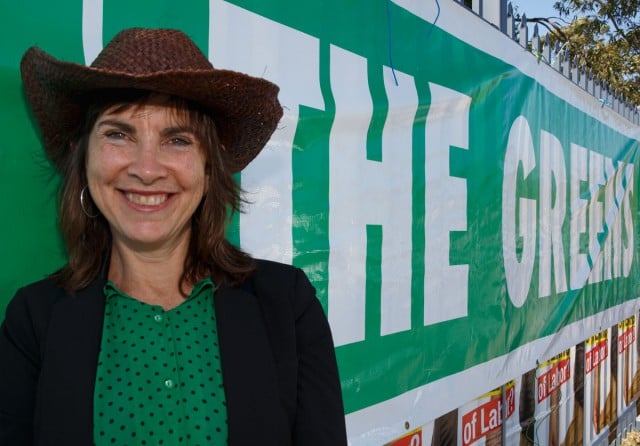 [7.37] The Greens' primary vote looks to have dropped by about 2 per cent in NSW, but they may have held the seat of Melbourne, where ALP first preferences have dropped. It's possible ALP could run third in that seat.
Anthony Green predicting ALP 48.9 with Libs on 51.1. The really big swings against Labor have been in Victoria and Tasmania, according to Anthony Green, not NSW and Queensland as many pundits predicted.
[7.30pm] The highly expected Liberal sweep of western Sydney hasn't been as even as predicted, with the ALP likely to hold onto a number of seats there. One who does seem to have lost out is long-standing ALP incumbent in Banks, Daryl Melham.
Of the so-called bellweather seats, that usually change hands with changes in government, the ABC is predicting a Liberal gain there, while Labor looks like it might hold on in Eden-Monaro. Like many Laborites, the sitting member Geoff Lyons is claiming, 'when the swing's on, the swing's on'.
[7.25pm] ABC reporting a swing of 3.3 per cent across the country, which while bad for Labor would likely see both Janelle and Justine returned. They are saying Labor is on 33.5 and coalition on 44.8 with greens on 9 per cent. Labor down 4.4 per cent. 'Clive Palmer might be one to look out for.' ABC predicting Labor with 58 seats and LNP with 90. Labor's worst primary vote since the 1930s. Swing in NSW is 3.1 per cent.
Anthony Green is suggesting ALP may only retain one seat in Tasmania.
[7.15pm] Good evening and welcome to Echonetdaily's live blog of the 2013 Federal election on a night when the ABC is already predicting at 7pm a change in government.
Chris Dobney and Luis Feliu are calling the count. Please comment with your views as we go along.
On current count. ABC has Labor on 34 seats, LNP on 68, with Greens yet to win a seat. ABC Anthony Green is predicting an election count similar to the 1996 election that swept John Howard to power.
In our region Janelle Saffin is looking to be shaky in Page, given counting in a few country booths have shown a swing against her. But it needs to be kept in mind that they are small rural booths and therefore tend to be the more conservative ones. Still pollwatchers are giving her a good chance to retain the seat on a two-party preferred basis.