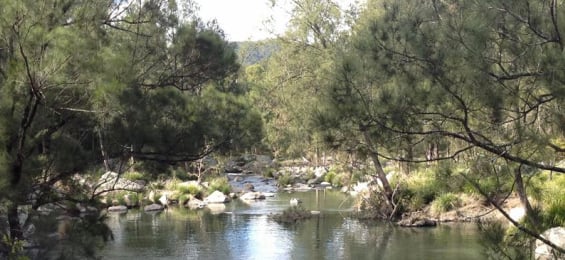 A mining exploration lease on the NSW mid-north coast adjoins a World Heritage area containing one of the country's most biodiverse areas, a group of land protectors heard last weekend.
The 'Wild on Earth' event attracted more than 200 people to a property within the gold and copper mining exploration lease area operated by Anchor Resources, a 97 per cent Chinese-owned company.
Bush regenerators, rangers from National Parks, Aboriginal elders, landcare groups, bird experts, ecologists and botanists were among the group of concerned citizens who came together at for the weekend near Dundurrabin, west of Coffs Harbour.
The private property adjoins World Heritage forests of Mt Hyland Nature Reserve.
On this property alone there are 29 threatened species of plant and animal and the owners are very concerned about the threat of mining coming into the area.  There are currently drill rigs on other nearby properties.
But it was not all doom and gloom: biodiversity was the gathering's focus and the group took time out to share their understanding of the natural wonders of Earth.
People gathered to learn about unique plants, animals, rare and threatened species, birds and insects, aquatic systems and some 'big picture' information on the ancient and interconnected nature of our environment.
The event was convened by Blicks River Guardians to gather support against mining on the Dorrigo Plateau and protect the rich and biodiverse eco-communities in the environmentally sensitive area.
Thousands of signatures have been gathered on a petition against the mining company's coming into the area.
Blicks River Guardians are a community group near Dundurrabin standing together to protect our natural heritage for future generations in the headwaters of the Clarence catchment from the toxic effects of mining.
For more information visit the group's new website www.blicksriverguardians.org.