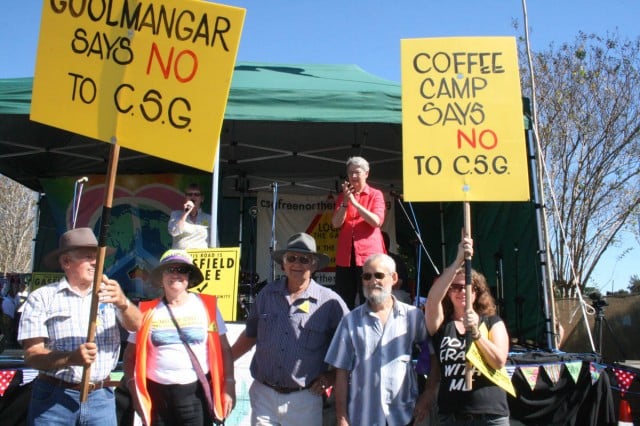 Melissa Hargraves
Lismore City Council is urging the state government to include all rural schools and village-style population clusters within the new coal seam gas (CSG) exclusion zones that came into force last week.
The exclusion zones, which prohibit new CSG exploration or mining within a two-kilometre buffer of residential areas, have already come under fire from environmental and community groups, who say they don't go far enough.
The zones do not include larger rural-style areas zoned R5 with lots ranging in size from 4,000 square metres up to 2.5 hectares, of which there are thousands on the north coast.
Last night, Lismore Council passed an urgent motion for the mayor to write to the premier, planning minister and Lismore MP Thomas George to consider including all areas with a school and a village-type population in the new buffer zones.
The letter will also ask for the criteria used to decide on the exclusion zones.
Cr Simon Clough said he put up the urgent notice of motion after receiving significant concern from the community.
Cr Clough said it was urgent because the state government has allowed until Friday November 8 (which falls just prior to the next council meeting) for comments to be made about future development areas.
'We need to move quickly and put up our hand and say we have many residents concerned about this issue,' Cr Clough said.
He told Council that Bexhill and Modanville were included in the exclusion zones but places such as Rosebank, Richmond Hill, McLeans Ridges, Goolmangar, Jiggi and Coffee Camp were not and, as such, the criteria for the exclusion zones were needed.
Cr Clough added that, nonetheless, the state government deserved 'significant congratulations for this and is a great achievement to protect populated areas'.
No consistency
But he said, 'it seems anomalous that these areas are not included'.
Residents from the unprotected areas addressed councillors on the issue.
Alan Greg from Rosebank asked Council for exclusion-zone criteria and if exclusion-zone standards could be applied across the region for consistency.
Cr Dowell said that although the Lismore local government area (LGA) has the majority of its constituents in opposition to CSG, other councils do not.
'NOROC is the avenue to work collaboratively with other councils but we have come across challenges in recent times about the views regarding CSG,' Cr Dowell said.
Cath Ford, an organic farmer from Rosebank, asked Council to do what they could to offer protection for not only her land but the periphery.
But Cr Dowell said Council was limited with how it could deal with CSG issues.
'We are limited to stop it,' Cr Dowell said. 'The state government is the controlling agency over it.'
Ms Ford told Council that 'in Queensland the councils got together with the mining industry to nut out a set of guidelines for farms for protection. It has been quite successful.'
Cr Dowell said that in Queensland 'the councils are like the Upper House as they don't have an upper house, so it is a different structure.
No social licence
'We have made it very clear that we do not want it in our LGA. We can stand with our community and say that there is no social licence for CSG here,' she said.
Council's strategic planning coordinator Paula Newman said that places are not 'zoned as villages if they do not have the same extent of services; for example Rosebank has fewer services than Clunes'.
Cr Greg Bennett said that horse studs and vineyards were protected in the Hunter Valley so the Lismore district also should have its areas of intensive agriculture protected.
Cr Clough suggested that issue could be investigated via the Biophysical Strategic Agricultural Land (SAL) provisions that could be included in the letter.
Cr Neil Marks said if areas such as Rosebank were to be included in the exclusion zones then it would only offer a 2km area of protection, which would not offer the protection that land owners were after.
Cr Graham Meineke said that by including all regionally significant farmland, that protection could be provided.
Cr Dowell said she was concerned how the letter should be interpreted.
'I don't want this letter to read that we want these areas to be excluded but we are giving up on CSG in our other areas,' Cr Dowell said.
'I am concerned; as we have 87 per cent opposing CSG, the letter needs to be stronger.'
Cr Dowell said she will draft and circulate a letter among councillors rather than adding to the urgent notice of motion.
All councillors backed the motion, except Cr Meineke, who said he opposed 'letter writing'.