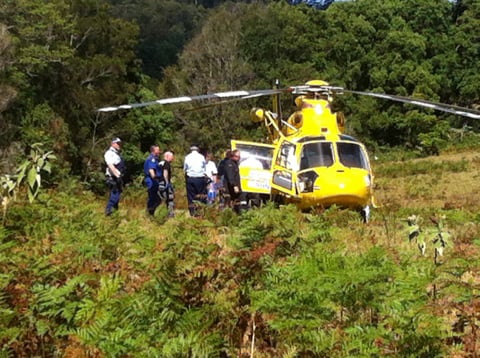 Luis Feliu
Helicopter and ambulance paramedics have treated a logging contractor at Whian Whian for serious head injuries after a large branch from a tree fell on him.
The man was airlifted out of a remote part of the private property and rushed to Gold Coast Hospital. According to police he remains in a critical condition.
Patrick Tatam, a spokesman for the newly formed Whian Whian Forest Alliance, told Echonetdaily the accident happened just after 1pm Wednesday and the Westpac Life Saver Rescue Helicopter arrived soon afterward.
The man was treated in an ambulance for over an hour before being taken by stretcher onto the helicopter to take him to hospital.
Mr Tatam said a neighbouring property owner led paramedics to the site on a ridge about two kilometres from the main access road.
The accident happened as crews contracted by the NSW Forestry Corporation, escorted by police, continued a controversial logging operation on a private property near the Nightcap National Park.
Around 30 neighbouring residents have been conducting a peaceful protest at a camp near the entrance to the property in the past fortnight and five arrests have been made in that period.
The conflict escalated after loggers acted as their own vigilantes last week by detaining two young protesters and holding them for over half an hour until police arrived to arrest them.
Protesters taking action against the logging have established a camp near the entrance to the private property.
The logging operation has been sanctioned by the state's Environment Protection Authority (EPA) but protesters say an independent survey of the area has revealed a number of endangered species are threatened by the logging and bulldozing of tracks through the heavily forested property.
Yesterday morning eight logging trucks, seven loggers' utes and around six police vehicles with more than a dozen police officers broke through a makeshift barricade protesters had erected on the access road leading to the property to continue the operation.
The owners of the property, believed to be two couples who live elsewhere, have told protesters they would be part of a mediation meeting, but they have yet to make a public statement and all efforts by Echonetdaily to contact them have been unsuccessful.