The Ocean Shores Country Club recently hosted their annual Greg Norman Golf Foundation Junior Masters event with both 18-hole and nine-hole events on the golf course.
'It is a qualifying event for the Greg Norman Junior Masters,' says club president Stuart Brady. 'The Junior Masters has been running for around 20 years and this is the tenth year it has been a qualifying event for the Greg Norman Junior Masters.'
The event had originally been planned for March but had been washed out. It had been rescheduled for October and had a great turnout of 48 young golfers. 'It was a good turn-up, seeing it was a long weekend and held on the day of the NRL grand final,' says Stuart.
The age range for the tournament was eight to 17 years and the handicaps were as low as +1 for the boys and zero for the girls.
I's a popular event; competitors came from as far afield as Brisbane and Coffs Harbour. There was a 9-hole stroke event – the Gary Ridge Memorial Trophy; this is the first year a 9-hole event has been run as part of the competition. There were separate 18-hole stroke events for the boys and the girls.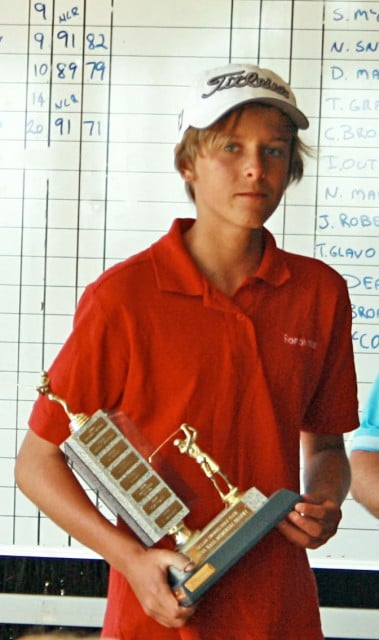 'Conditions were fantastic,' says Stuart. 'A credit to our superintendent, Shane Heaney, and his staff. The standard of play was outstanding, with the boys' winner shooting a score of three under par, 69. There were 11 boys playing off handicaps of five or less, including a 14-year-old playing off a handicap of +1. The girls' winner shot a two over par 74.'
Winner of the divisions were: Ocean Shores Junior Masters Champion Boys Tanner Jackson (69) and Ocean Shores Junior Masters Champion Girls Kirsty Hodgkins (74).
Runner-up Boys Jacomb Borra (73) and runner-up Girls Madeline Trew (76). The Net Winner for the boys was Matthew Bailey (69) and for the girls it was Ashlee Selwood (71).
The winner of the Inaugrual Gary Ridge Memorial Trophy (nine holes) was Jack Robertson (44) and the Steve Hall Memorial Trophy for the Best Ocean Shores Junior was Liam Harman (Net 72).
Stuart says it was a wonderful day that was made even better by all the volunteers who helped out.