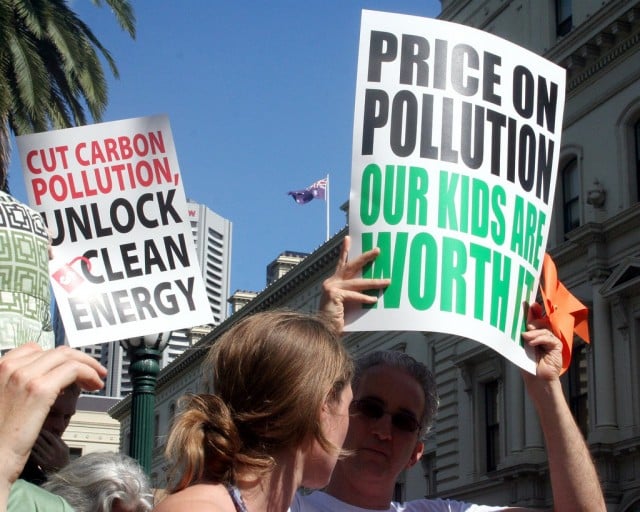 Giles Parkinson, RenewEconomy
The first major policy decision from the new Labor Party leader Bill Shorten will likely be one that helps define his leadership: he has pledged to fight the new conservative government's proposed repeal of the carbon price, and he should have plenty of ammunition to do it.
Tony Abbott has only been in power for a little over a month, but he is already looking increasingly isolated, both on his home turf and in the international arena, in his stubborn insistence on repealing a market price for carbon.
Somehow, the new conservative government imagines itself being a major international player, using its rotating presidency of the G20 to bring China and the US to the table and thrash out a long-term climate treaty.
But to achieve that it needs credibility: and becoming the first government in the world to end a carbon price, and possibly the first in the world to reduce a renewable-energy target, means it will have none.
So far, the new government has failed to move beyond election sloganeering and is  struggling to produce any other coherent argument to support the move.
Even today, environment minister Greg Hunt could find no other justification for repealing other than to say that Abbott had said he would.
The decision by Shorten to stick to the party's signature policy means that the coalition will have to rely on a rag-tag group of independent senators who will sit in the Senate from July next year, and whose support will likely be subject to a range of eccentric and self-interested outcomes.
Critically, there is no certainty that the substitute policy, Direct Action and an emissions buyout fund, will be approved by the Senate, given that the minorities, and many within the Liberal and National parties, don't accept their science of climate change.
That creates the bizarre and untenable scenario that Australia seek to broker a deal between China and the US on the importance of climate action while having no policy of its own. Climate policy and carbon pricing is not Labor's achilles heel; it is most certainly Abbott's.
World backs pricing
In just the past week, the world's major international economic institutions have lined up firmly in favour of a carbon price. China, Australia's biggest trading partner, is headed down the same path.
The OECD says consistent carbon pricing must be the cornerstone of government actions to tackle climate change.
'In our view, any policy response to climate change by any country must have at its core a plan to steadily make carbon emissions more expensive while, at the same time, judiciously giving non-fossil energy and energy efficiency an advantage at the margin. This is fundamental,' said Angel Gurria, the secretary of the OECD.
The OECD's position was supported by both the International Monetary Fund and the World bank. IMF chief Christine Lagarde said the key to addressing the problem is to 'get the pricing right' and to gradually phase out and remove energy subsidies that amount to $485 billion globally.
'If the price of fossil fuel is right, because it incorporates the negative externalities (a carbon price), then it encourages investment in cleaner fuels without the need for subsidies,' she said.
Even the World Bank president Jim Yong Kim weighed in, saying that technology developments have improved so much that economies were capable of both robust growth and a low-carbon future.
This last bit is critical, because the only person the coalition can find to support its policy is the 'climate confusionist' Bjorn Lomborg, who contends that there is no technology that can cheaply reduce the use of fossil fuels and cut emissions. It is a position that is hopeless out of date.
China, Australia's biggest trading partner, recognises the truth of this and is implementing trial schemes for carbon pricing in preparation for a national scheme as early as 2020.
A survey by the Australian National University suggests that China will have introduced a nationwide emissions trading scheme (ETS) and a carbon tax by the end of the decade.
The Australian government should not doubt the ambition of this, because China has also made clear that it will put a cap on coal consumption that will be equivalent to even the most ambitious climate-reduction targets envisaged by the IEA and the UN.
Abbott has no answer
If asked how Australia would move its commitment beyond a five per cent target, the new government simply has no answer.
As the Climate Institute's John Connor said this week: 'Australia's minimum five per cent target is not a fair contribution to avoiding dangerous climate change. The United States, for instance, is targeting around a 20 per cent reduction in emissions by 2020 and China is putting in place carbon prices and limits to drive an industrial clean-energy future. That is a lot more than we'd be doing under the government's policy.'
It should be remembered that the US leadership also supports carbon pricing, but is only prevented from doing so by the extreme right of the Republican Party, the Tea Party nut cases, and those that owe their position to backing from the fossil-fuel industry.
It is from these ultra-conservative groupings, and their local equivalents in his own party, Australia business and the media, that Abbott takes his cue.
The coalition government will try to bully its repeal through the parliament, but without the support of Labor will have to count on the support of minority parties in the new Senate.
The Palmer United Party, according to The Australian, says the support of its three senators will be dependent on the government refunding revenue from the carbon tax to all polluters and households. Palmer's Queensland Nickel is currently fighting a $6.2 million charge from the clean-energy regulator after refusing to pay its share of the carbon tax in the last financial year.
The other noticeable weakness in Abbott's climate plan is that it has already brought two key elements of Australia's low-carbon economy to a complete halt.
Investment in large-scale renewables has been suspended while the industry waits for the government to deliver on its promise to review the renewable-energy target yet again. That review will not start till next year and may not be finished for another 12 months.
The renewables industry is trying to short-circuit that delay, but that will likely involve major concessions to the fossil-fuel industry, including possible buyouts of coal-fired capacity that a new report from UNSW says will be counterproductive.
The other key element that is grinding to a halt is new investment in carbon abatements. Rather than doing it as part of a broader market signal (via a carbon price) the companies are now downing tools and ceasing new commitments to projects to wait to see if they can qualify for a government handout from the emissions-reduction fund.
As pointed out last week, this goes to the very question of 'additionally', that is, will the coalition hand out money simply to companies who would be doing stuff anyway. If so, it is pointless.
In the narrow prism of self-interest that governs the actions of Australia's major business lobby groups, that may be a satisfactory outcome.
But in the international sense, it may mean that Abbott has to continue his 'apology tour' a little while longer. He may regret is pledge to 'axe the tax' more than any other of his three-word slogans.
Even the Daily Telegraph editorialised this week for support of a market-based mechanism, contradicting its most rabid commentators such as Andrew Bolt, Miranda Devine and Terry McCrann, accepting that the IPCC report showed that 'there is almost no doubt that climate change is occurring, and very little (doubt) that human activity is a contributor'.
The key, said the Tele, 'is to facilitate a market-based mechanism which does not punish producers at a delicate time for our economy but rather enhances competition and encourages new technologies that in time can deliver clean and affordable electricity for consumers'.
We already have one of those, and Shorten has plenty of ammunition to make the case to keep it.