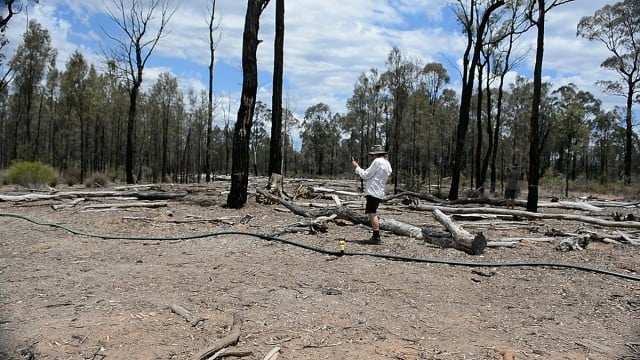 With the announcement that CSG miners are planning to return to the northern rivers, some groups of anti-CSG activists are visiting the Pilliga to support forest protectors there and see first hand what damage was wrought by the now-infamous spill of wastewater into the pristine Pilliga Scrub.
The most recent to return was Byron Environment Centre (BEC) co-ordinator David Saunders, who told Echonetdaily yesterday that the trip was certainly 'an eye opener'.
'I have been finding when working the BEC kiosk I am asked for updates and info on CSG so much that I felt I needed to visit sites including the Pilliga and gather firsthand knowledge,' Mr Saunders said.
'I was lucky enough to be invited on an educational tour of the Pilliga.
'I was shown an area consisting of hectares of former forest land where a CSG tailings dam overflowed after a rain event.
'The area affected by the spill is completely dead now: all trees dead, all wildlife gone, not even a single ant to be seen.
'It looks like a nuclear accident site, very frightening, and these are from just test wells on a small scale.'
Mr Saunders said he was told that, besides any chemicals and foreign substances such as sand that are injected into the wells to draw the gas out, there are 'age-old and very toxic substances like fungi, heavy metals and other unknown pollutants that are disturbed by the CSG extraction process and are flushed into huge tailings dams'.
'The evidence I saw and photographed of the now desert-like landscape from the spill says it all. CSG mining isn't safe and is insanity. A great area of Australia is siting above the Great Artesian Basin; it may only take one spill like I saw to ruin our beautiful country,' he said.
Mr Saunders added that the dead trees had been cleared by the gas company after the spill occurred in 2011 but nothing has grown back since.
Earlier this month another group of north coast activists visited the Pilliga, where locals are coming together to oppose CSG.
Byron local Iris Ray Nunn spoke to Anne Kennedy, president of the NSW Artesian Bore Water Users Association, who told a familiar story.
'We feel we have been backed into a corner by governments refusing to listen to us or to consider the impacts of the potential loss of our groundwater if this gasfield is developed,' Ms Kennedy said.
'Community members are stepping up to protect our groundwater and defend this recharge zone of our precious Great Artesian Basin from CSG industrialisation,' she added.
Bundella farmer Megan Kuhn said, 'Here in northwest NSW we are currently facing an enormous challenge that we certainly didn't ask for. Our communities, our water resources and our farmlands are all threatened by a coal seam gas invasion.
'Santos has no social licence to operate and they are forcing themselves on concerned rural communities. We are standing on this road today to highlight Santos's unacceptable behaviour in fencing off our Crown roads for their private drilling activities,' she said.
Gomeroi elder Maureen Sulter added the message: 'Winangaya dhawun. Respect the land.
'It's a powerful time out in the Pilliga at the moment, with many people coming together from across the region to protect this place from coal seam gas mining,' she said.