Around 3,000 Byron and Tweed shire residents will be among the 12,000-plus people expected to attend each day of The Falls Music and Arts Festival at the North Byron Parklands site, Yelgun, from New Year's Eve to Thursday, January 2.
Preparations for the festival being held in NSW for the first time are going full steam ahead at the purpose-built event site at Yelgun which started its life six months ago as the home of the Splendour in the Grass festival, which also draws thousands of people to the area.
A special allocation of tickets for locals sold out this week, complementing a big bill of local performers which has thrilled organisers who say some local acts could end up being a highlight.
Big crowd pullers will be, from the US, The Roots, The Violent Femmes and Vampire Weekend and from Australasia, Neil Finn and Cat Empire.
Falls Festival director Brandon Saul the sellout of the local allocation tickets meant many from across the northern rivers were choosing to come for the whole festival and others 'to spend their New Year's Eve with us.
'We're really looking forward to putting on a great festival, Byron style. It's also great to have so many locals performing at the festival. I suspect this section of the festival may end up being a bit of an unexpected highlight – it's like a "festival within a festival",' he said.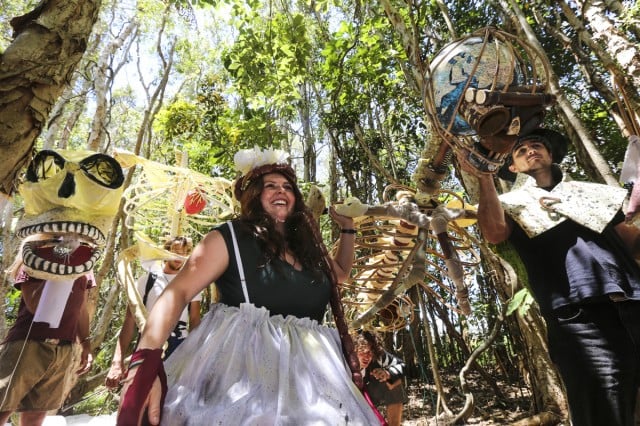 A big part of The Falls Music and Arts Festival is a diverse program for The Village area of the festival.
Organisers say the line-up 'presents a labyrinth of performance-based art that continues to grow bigger every year, physically and metaphysically'.
'With artists and installations from across Australia and the world, The Village is a space packed with an organised kind of chaos, loveable characters, enchanting music and charming surrounds,' they say.
'Mixing local and national artists this year, the Byron Falls arts program is filled to the brim with performers of many varying genres, including gypsy folk bands, hip-hop beat producers, singer-songwriters, cabaret performers, glitchhop artists, scratch djs, burlesque danseuse, time travel artists, Bollywood dancers, theatre productions, yoga, creative workshops, giant puppet weddings and more.'
Another festival highlight is the Falls Fiesta, an 'effervescent extravaganza on the last night of each event, which entails a colourful explosion of dancing and costumes with a huge parade designed to bring everyone together'.
Puppets and sculptures created throughout the art camps before and during the events lead the parade to party music.
You can follow the festival on various social media sites: fallsfestival.com  –  Twitter  –  Facebook  –  YouTube  –  Instagram