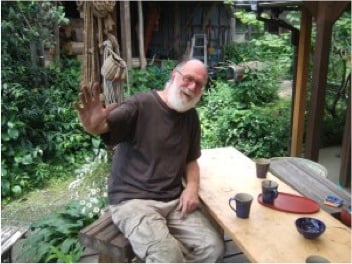 Master potter (1941–2013)  
David Cross
Bob Connery, master potter, musician, scientist, teacher and visionary is no longer with us. He died peacefully at Murwillumbah Hospital on Thursday December 12 as his daughters sang his soul on with a rendition of Six White Horses. Bob's studio and gallery, The Stokers Siding Pottery, has for the past 30 years been an icon of the northern rivers art scene. Bob and his partner, Julie Rainow, who managed the Stokers Siding Pottery Gallery, have showcased arts and crafts from the northern rivers and all over Australia including the work of Indigenous artists.They have nurtured and helped develop the careers of dozens of other artists and craftsmen and women. Bob's own work was internationally acclaimed and recognised, particularly in Japan where his lustreware ceramics were so highly regarded that he was given 'signing rights' by Grand Tea Master Sen Shoshitsu, effectively guaranteeing the quality and worth of his work. Bob was only one of two westerners to have been accorded such recognition and was accorded the right to have a kiln in Japan.
Descended from Irish rebels who were transported in the 1830s, Bob was born in 1941 in Sydney to relatively poor working-class parents. Schooled by the Marist Brothers he received an academically rigorous but narrow education which placed heavy emphasis on sport (particularly boxing) and religion but none at all on art. Nevertheless, he developed an early interest in art, singing and dance, winning an art competition at the age of 12. It was characteristic of Bob that he pursued, from an early age, a broad range of interests and was an intensely curious observer of the world around him.
As a teenager he was a sharp dresser and a good dancer, which made him a sought-after partner for debutante balls. Bob studied science at the University of NSW and obtained a Diploma of Education. In 1961 Bob married Mary-Lee and, over the next few years, they had three children.
His love of music drew him into the Sydney jazz scene of the early 1960s playing with the likes of Geoff Bull and Dick Hughes. Later he branched out to the blues scene, establishing his own band but also singing and playing with, among others, Jeannie Lewis and The Foreday Riders. Primarily a singer, Bob blew a mean blues harp and played flute, sax and clarinet. He later took up guitar when he moved to Stokers Siding and established another band, The Stokers Siding Local Band.
Bob began his teaching career at Albury High School where, as a supervisor of the boarders' dormitory, he occasionally resorted to the boxing ring to sort out some students who weren't sufficiently respectful of the new, young, science teacher. He was eternally grateful to 'the Brothers' for equipping him with the necessary skills. He later taught at Endeavour High, which he loved, because as a newly established school it gave him the opportunity to develop a special relationship with the first cohort of students, which he taught all the way through to Year 12. Bob was a passionate teacher who always responded to kids who struggled and needed help or motivation. A colleague later recalled that teaching in the room next to Bob's meant that no two days were ever the same and that it made her time at school thoroughly enjoyable. After a stint at North Randwick High, Bob got a transfer to his last teaching post at Tweed River High School.
The move to the far north coast was an outcome of a vision Bob had of creating an arts community along the lines of Monsalvat. A number of friends who shared similar views and values became involved with the project. A run-down old dairy and banana farm at Stokers Siding was bought in 1973 and Duck Palace was born. As much an outcome of the alternative-lifestyle hippy era as it was of a Monsalvat vision, Duck Palace was one of the first alternative communes or co-operatives in the Tweed. At its centre was Bob and his family. Others joined the co-operative and, by 1977, there were several households on the property with the members variously engaged with beef and banana farming and building and teaching. It was a diverse collection of individuals who, Bob figured, needed some common bond and so The Stokers Siding Local Band was created.
With the purchase by the partnership in 1977 of the old Stokers Siding Store and Bakery, Bob now had the opportunity to pursue his dream of establishing a commercial pottery and gallery. The distinctive two-storey building was to become, over the next thirty years, the centre of his and Julie's creative life. Bob resigned from teaching and devoted himself solely to the production of ceramics and the development of a gallery, in partnership with Julie, which could provide a retail outlet for his and others' work.
Bob's passion for ceramics had developed early when he had learnt Raku pottery from Shiga Shigeo in the 1960s. His interest in ceramics was further developed through working with Roswitha Wullf, and later at Stokers Siding he collaborated with Laine Langridge and then Andrew Stewart. His early work at Stokers was wood fired until he installed a gas kiln. The first firing of the wood-fired kiln proved to be a very drawn-out affair involving the consumption of a few too many bottles of red. Burnt and blistered Bob and Laine ruefully decide to limit drinking during future firings.
With his background in science Bob was well placed to experiment with various glazes, some of which were made from local clays. His expertise in reduced-lustre glazes, developed in the 1990s, owed much to his science training. It was his mastery of lustre wear, an ancient Persian style, that cemented his reputation both nationally and internationally.
Whether throwing pots, playing music or cooking for friends, Bob was a passionate perfectionist. Sometimes a hard taskmaster, he was a loyal and generous friend, a devoted family man and a respected community elder. He is survived by his partner, Julie Rainow, first wife Mary Lee Connery and his children and their partners, Andrew, Jacinta and Terry, Luke and Naomi, Ben and Michelle, Misha, Julian and Katie and grandchildren Toby, Jordan, Zara and James and great grandchild Desmond and his extended family in Alice Springs. He will be greatly missed by countless friends, colleagues and admirers.