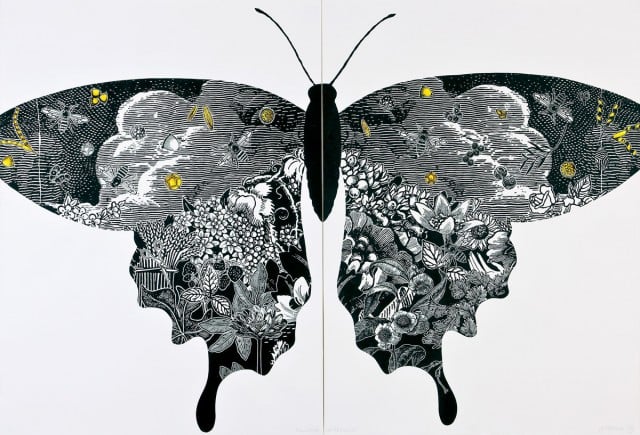 Insect-themed prints and pastel drawings of everyday life in Paris are at the heart of two fascinating new exhibitions opening at the Tweed River Art Gallery this month.
Kyogle artist Jenny Kitchener's exhibition titled Array is on display from 24 January to 8 June, while Travellers Tales, an exhibition of colourful drawings in oil pastel on paper by renowned artist Bernard Ollis, is on show from 17 January to 22 June.
The official opening of both exhibitions will be held at the gallery on Friday 24 January from 6pm (DST), with Array to be launched by writer, educator and artist Steven Giese and artist Wendy Sharpe launching Travellers Tales.
A gallery spokesperson said Kitchener's combination of linocuts, screenprints, monotypes, cut-out silhouettes and ceramics 'invites visitors to consider the plight of insects'.
'Array promotes an important idea: all members of the biosphere are important, even small ones such as insects.
'Kitchener's prints come from a context in which nature is under siege: species extinction proceeds unabated; fragile ecologies are scorched by fire and drowned by flood; soil and water systems are becoming depleted beyond recognition; and some pesticides have unintended consequences.'
Travel has always been an inspiration for English-born Ollis, who arrived in Australia in 1976.
After spending four months as the resident of a grand studio at the Cité International des Arts in Paris, only a stone's throw from Notre Dame cathedral, he experienced a defining moment in his career.
'Each day I walked, looked and absorbed the culture, the aesthetics and the mesmerising intensity that is Paris,' he said.
'It was the first time I had the total freedom to paint what I liked, when I wanted, without the input from lecturers or peers,' Ollis said.
'At the end of the scholarship, I reluctantly returned to London and the Royal College of Art, with hundreds of gouaches, un-stretched canvases, pen-and-ink sketches and oil pastels, with which I covered every square inch of my studio walls.
'I went to Paris as an art student and came back an artist.'
Ollis will visit the gallery on Sunday 4 May at 10.30am when visitors are welcome to join him for an exhibition floortalk on his residency in Paris and the resulting artworks, followed by a demonstration of his technique from 12 noon till 2pm.