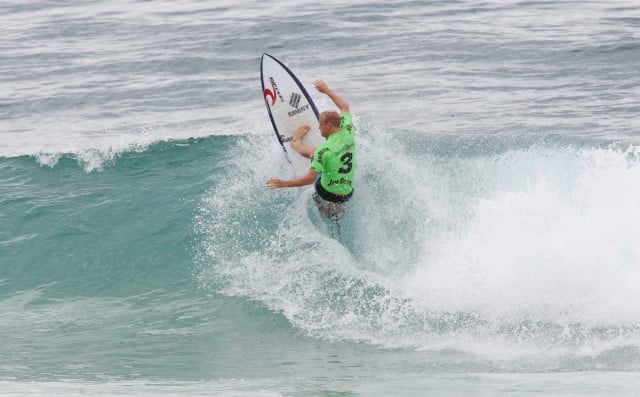 For the first time in the 13-year history of Jim Beam Surftag the far north coast of NSW will hold its own qualifying event for the Australian championships this Saturday in the Lennox Head/Ballina region.
The introduction of the new event has opened the doors for smaller clubs to compete in the coveted event and there aren't many more amped than Coffs Harbour Boardriders Club.
Former World Tour surfer Lee Winkler says his club is in its best shape, having member numbers blow out from 70 to just under 200 this year.
'We've got six-year-olds through to 60-year-olds now all a part of the club so we've got an awesome dynamic now. A win at this event would be really special for us.
'A few of us have all retired from our competitive careers and we're all back in town together so we're forming a stronger relationship between each other through the boardriders.
'These sorts of events bring the communities of the coast together and we'll make some great mates and meet different people from different clubs and hopefully form some healthy rivalries that'll continue for years. It's a really high honour, I guess, to surf with someone else because you don't get to do it that often. There's a great sense of camaraderie.'
With his team – Shaun Cansdell, Jake Sharp, Scott Schindler and Elliot Curnow – Winkler is quietly confident of a Titles berth.
'We fear no-one and are friends with everyone,' he jokes. 'As long as we have a good time and don't let ourselves down that's the main thing.'
Only the top three teams will qualify for the Jim Beam Surftag Australian Championships at Duranbah (March 27–29) and Winkler expects usual heavyweights LeBa and Cabarita to be strong contenders on the day. Both veteran clubs have registered two teams for the qualifier. Other teams registered for Saturday's event include Byron Bay, New Brighton and Kingscliff, and organisers are awaiting confirmation from Angourie, Sawtell and Woolgoolga.
However, in shock news for 2012 Australian champions, LeBa Boardriders, standout natural-footer Stu Kennedy is in doubt for Saturday's event. The high-flying QS competitor suffered a fractured rib after landing awkwardly in shallow water.
'I don't really know what happened,' says Kennedy. 'I did an air and landed in the flats and it got me. I'm not 100 per cent sure at the moment whether I'll compete this weekend. I haven't tested the rib out yet.
'We can't have the CT guys like [Adam] Melling but I'm sure whoever is around we'll still have a pretty solid team. Hopefully I can come and get into it. It's always a good day and you get pretty passionate about it when you're with all the boys. All the LeBa crew love it.
'We won the Aussie title the other year with Melling, Owen Wright and Marcus Aboody, and we've got a couple of really good local surfers in such a small area so hopefully we can do it again. Even the Byron guys have really good surfers too.'
Kennedy said the newcomers to Surftag such as Coffs Harbour could be surprise packages, having never seen them compete before.
The winning team on Saturday will receive $1,500 with a total prize purse of $3,300 ready to be won; $110,000 in cash and $20,000 worth of prizes will be given out over the Jim Beam Surftag Series with $15,000 awarded to the Aussie champs plus a seven-day Maldives boat trip courtesy of Perfect Wave Travel.
Visit www.globalsurftag.com and www.facebook.com/surftag for all the latest results, photos and videos.