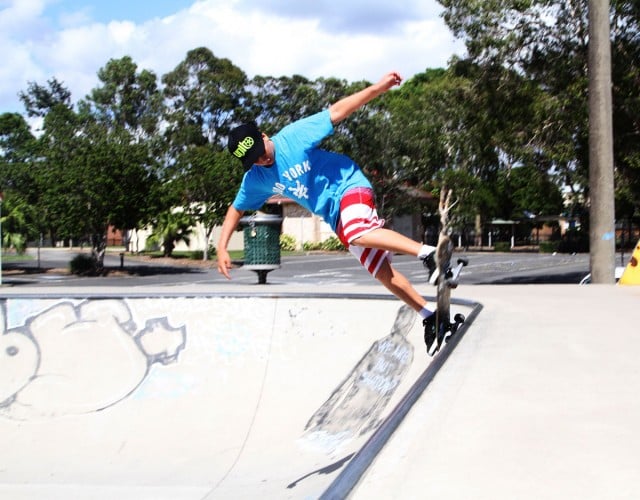 Skaters with a wide variety of experience and ages took advantage of a free skating workshop at Tweed Heads South last weekend, the first in a series of workshops being staged by Tweed Council and Skateboarding Australia (SbA) during the next six months.
'We had a range of participants from absolute beginners to accomplished young skaters, and from seven years of age to 55,' said Council's youth development officer, Sylvia Roylance.
'One of the fathers at the workshop had been a skater in the past and the SbA instructors taught him some of the new techniques.
'Trained SbA staff will attend all four workshops, to provide free skills tuition for children and young people – and to anyone else who wants to get involved.
'SbA also supplies all the necessary equipment, so participants just need to come along with a desire to learn new skills.'
SbA staff provided instruction to a total of 11 people at the first workshop, staged at the South Tweed Heads Skate Park last Sunday.
The South Tweed skate park will stage another workshop on Sunday March 2, followed by a workshop at Murwillumbah Skate Park on Thursday April 17 and Cabarita Skate Park on Sunday June 1.
All the workshops will be held from 10am to 1pm.
Council and SbA combined in mid-2013 to stage a skate day at the Knox Park skate park, to encourage community feedback about a planned $1 million upgrade to build a youth precinct and adventure playground at the central Murwillumbah park.
'It's fantastic to have Skateboarding Australia back for a series of workshops throughout the Tweed, to help develop the skills of our young skaters and to teach young people how to skate safely,' said Ms Roylance.
Council is continuing to engage with the community on the design of the Knox Park youth precinct, which includes a new skate park and an adventure playground.
For more information or to provide input, visit www.tweed.nsw.gov.au/KnoxParkUpgrade or www.yoursaytweed/knox-park-upgrade.