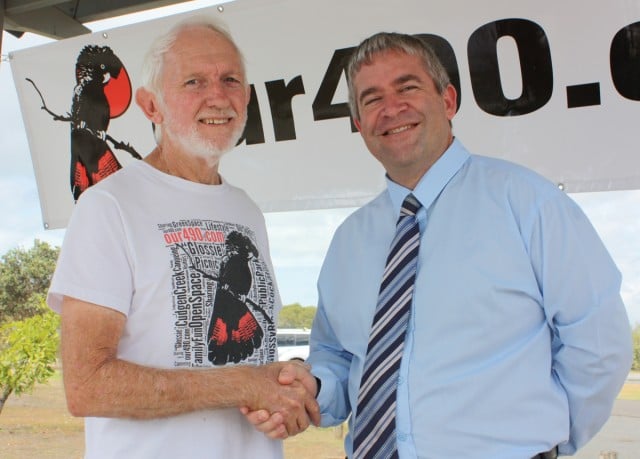 Tweed Labor candidate Ron Goodman has thrown his support behind the campaign to protect the Kingscliff land known as Lot 490.
The environmentally important lot is under threat because the state Liberal/National government has earmarked part of it to be sold off for commercial development.
The 40-hectare block between Kingscliff and Salt has been the subject of a public campaign for years to have it retained as a coastal reserve.
'Lot 490 is an important piece of open space land that must be protected for the future,' Mr Goodman said.
'It is a significant piece of land that is important to the liveability of the Kingscliff area, now and in to the future.
'Geoff Provest's government needs to stop trying to cash in on this land and instead start working to have it zoned as environmental land for our community.'
Last year the embattled Leightons Property group pulled the pin on a proposed resort project earmarked for the site, handing it back to the state government and prompting locals to intensify their campaign for its retention in public ownership.
But in a controversial move, the state government changed the status of the beachfront block, east of Casuarina Way, from Crown land to 'government property', which the site's defenders saw as preparing it for sale.
Mr Goodman said the Kings Forest development would bring thousands of new residents to this area and Lot 490 would be a key to maintaining the amenity of the area for present and future residents.
'I'm proud to stand with the thousands of Tweed residents who have declared their opposition to the sale and development of Lot 490 by Geoff Provest's government,' Mr Goodman said.
'Today I have added my signature to the more than 11,000 who have already signed the petition against the sale and commercial development of this site.'
Lot 490 was also the site of a rare species of orchid, Geodorum Densiflorum, destroyed by a fire police believe was deliberately lit in July last year, only two weeks after staff had collected seeds and sent them to the Millennium Seed Project at Royal Kew Gardens in the UK.