There is something sensually evocative about the voice of multi-award winning internationally renowned singer songwriter Parissa Bouas.
Usually a collaborative artist, and best known as one half of The Hottentots, The Full Force of the Wind is the debut album that sees Parissa take those glorious floating steps as a solo artist. It's Billie Holiday meets Tom Waits and more.
I love the feel and the styling of the album, I could have been in Paris, or drifting on a sailing boat in Cuba… were you conscious of setting such a definite mood with The Full Force of the Wind?
Not really. I knew that I had a set of songs that required a different sound than what I'd been getting with The Hottentots and when I met Michiel Hollanders and Marc Constandse I knew immediately that the way they played would really suit the songs I had. The songs kind of revealed themselves as we put the production together.
Tell me a little about your working relationship with your life partner Carl Cleves? How do the two of you compliment each other?
I think we do really compliment each other. He inspires me with his ability to focus, and his avid interest in poetry, songwriters, storytellers, literature and the arts in general. As The Hottentots I believe we found a good balance between the light and happy songs and the longer, darker themed tunes. Carl likes to work on his own, but I often steal his chords, when I hear them waft into my room and add my own melody and words to them.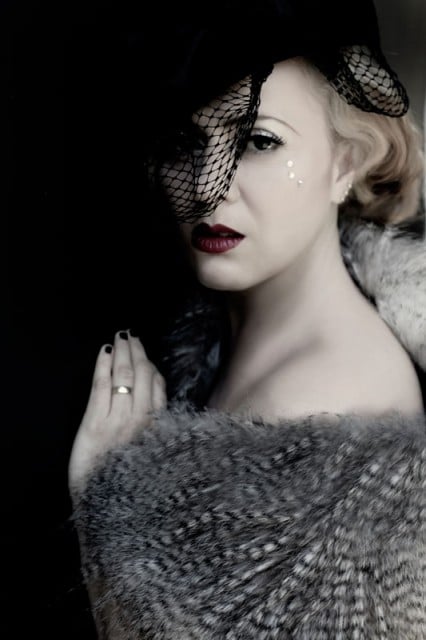 What's your songwriting process? Are songs fully formed in your head, or do they emerge slower than that?
Often I have the songwriting feeling deep inside my belly. I will then sit down at the piano, or guitar if I'm touring, and doodle around or pick up a song book and play some chord changes to a song I don't know. I'll try to find a melody, then discover what the song is about. Alternatively something will happen to a friend that will move me and I'll just write words first, then search for a previous doodle to add them to. I record everything. Today I was cycling along and started singing, which I immediately recorded. Little bits and pieces of songs are everywhere and over time they may become a song. Yes occasionally they come out fully formed in one go, when I have the time… that can be hours or days. The Full Force of the Wind is one of those.
This is such a romantic album, is that a reflection of you? Are you a true romantic?
Is it? It's a break up album for a friend of mine. I guess it evokes a romantic time. A lot of people think it's cinematic, I love that idea. Yes, I'm a hopeless romantic!
You have such a natural voice, you don't 'oversing', it feels so effortless. How long did it take you to establish your very authentic and individual style? Who are the singers who have influenced you?
I've been singing since I was a young child, and I've recorded six albums with The Hottentots, but I'm really enjoying the discovery of my voice on this album. They say age informs a singer. Perhaps you lose some technical ability but you gain emotional experience with which to really sing. For this album I listened a lot to Carla Bruni, Billie Holiday, Madeleine Peyroux, Tom Waits, Norah Jones and Melody Gardot.
Can you tell me about the other players on the album and where you recorded?
I started recording here with Peter Haddock at Muse Agency. Then I met the Dutch guys. The album is co-produced by myself and Michiel Hollanders. He's an incredible musician and instrument builder. He plays all kinds of guitars, the saw, velofoon, fietsband bass, weird stringed instruments and sand paper. Marc Constandse plays percussion and bandoneon. I recorded with them in Holland, twice, the rest was sent using Dropbox, with lots of skype sessions to discuss it all. I did some guides locally with Waz Porter and then while I was touring in Victoria, I recorded at Pughouse Studios with Australia's pre-eminent Brazilian specialist Doug De Vries on 10-string guitar and cavaquinho and the fabulous JoJo Smith sang backing vocals. Carl Cleves was also there singing and supporting.
Who will be playing with you on the night?
The Australian jazz legend George Washingmachine will be his humorous self as he sings and plays his violin. Clare O'Meara, who used to be in The Hottentots many years ago, has played with everyone in the music industry on accordion, violin and voice. Arthur Washington, George's son, who is in a happening Sydney Hip Hop band, will play some 'real music' with us on guitar and Stan Valacos, a Greek brother, with a love of Brazilian music, will play the double bass.
The Byron Theatre, Saturday, 8pm. Tix: $25 at www.byroncentre.com.au. Bookings: 6685 6807