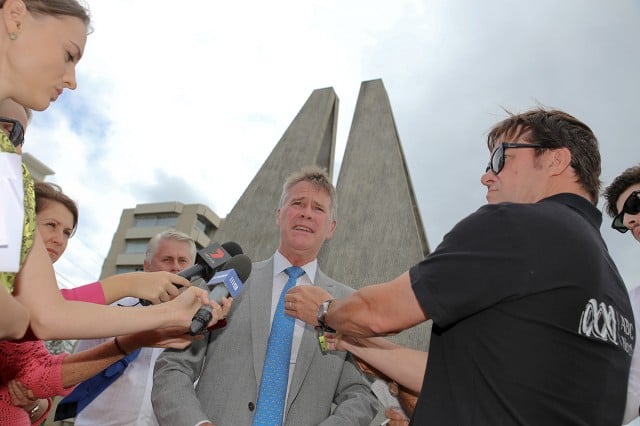 Shadow minister for the north coast Walt Secord and Richmond MP Justine Elliot have come out swinging against the appointment of deputy premier Andrew Stoner to replace retiring Ballina MP Don Page as minister for the region.
Mr Stoner's agreement with CSG miner Santos to rush its Pilliga wells into production despite significant environmental damage already caused by its exploration so far has seen him painted as an ally of the controversial industry.
Mr Secord said: 'The decision by the new premier Mike Baird to appoint deputy premier Andrew Stoner as minister for the north coast was appalling,' and was 'akin to rolling out the red carpet to the CSG industry'.
'Make no mistake, Stoner is the most pro-CSG politician in the state parliament,' Mr Secord said.
Mr Secord said Mr Stoner, 'personally signed the agreement to accelerate the CSG industry', adding that his appointment to the new role 'is the worst possible news for the north coast'.
Mrs Elliot declared September 12, 2012 'the greatest day of failure for the north coast Nationals'.
'That was the day when the Liberal-National state government reaffirmed the CSG leases on the north coast, locking in the industry into the region.
'My position on CSG is crystal clear. I believe that it is too great a risk, but the National Party is totally committed to developing and expanding the CSG industry on the north coast,' Mrs Elliot said.
Even some local National Party politicians are upset at the appointment, with one saying the deputy premier would not have time to give the region reasonable priority.
Coffs Harbour MP Andrew Fraser told ABC radio this morning, 'Mr Stoner has major portfolios. Apart from his role as deputy premier, he has trade and investment, regional infrastructure and services, tourism and major events, and small business'.
'We've seen in the past the trade and investment portfolio has taken him overseas for a fair amount of his time; to actually also have the north coast makes it pretty hard, I would think.'