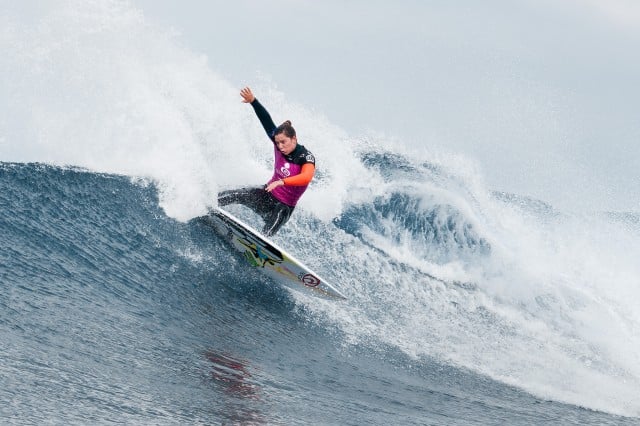 [Updated 12:55pm, Wednesday April 23]  Carissa Moore of Hawaii has won the Rip Curl Pro Bells Beach for the second consecutive year defeating Lennox Head's Tyler Wright in the final at Bells Beach by 16.23 to 15.77 (both out of a possible 20.00).
[Original story] Stop Number 3 on the 2014 Samsung Galaxy ASP World Championship Tour (WCT), the Rip Curl Women's Pro Bells Beach, ran through Round 4 and the quarterfinals, leaving just four surfers in the hunt to ring the coveted Bell.
The men's event and the women's semifinals were called off for the day after the swell dropped off in the early afternoon. Contest officials will reconvene tomorrow morning to assess conditions.
Perennial ASP Women's World Title contender Sally Fitzgibbons faced a tough match-up when she lined up against Malia Manuel (HAW) in the first quarterfinal. The Hawaiian drew first blood with a series of explosive forehands for an 8.50 score, but the in-form Fitzgibbons was quick to respond, utilising her speed and power for an 8.33 of her own. The lead changed hands a number of times, but it was Fitzgibbons who emerged with the victory after securing a 8.77 on her final ride and pass into the semifinals while Manuel leaves the competition in equal fifth place.
Two-time ASP Women's World Champion and defending event winner Carissa Moore (HAW) moved one step closer to ringing back-to-back Bells after knocking out fellow Hawaiian Coco Ho in their quarterfinal match-up. Moore also eliminated a battered and bruised local rookie Nikki Van Dijk, who hit both her board and the reef in a tough day of WCT action for the young Australian. Moore had all the fireworks in her heat against Ho, showing everyone just how much she loves this event when she put up a near flawless 9.67 for a combination of powerful moves. Ho continued her impressive Bells run with a late 8.10 score to rival her compatriot, but it was not enough to overturn Moore, who advances through to semifinals where she will face Sally Fitzgibbons.
The 2013 ASP Women's World Title and Rip Curl Pro Bells Beach runner-up Tyler Wright from Lennox Head came up against Lakey Peterson (USA) in their quarterfinal. It was a scrappy affair, with both regular-footers fighting hard for a spot in the semifinals. Wright made the most of the increasing onshore conditions, smashing a pair of 6s. Peterson fought back, but was unable to find the seven needed to surpass Wright, who came out on top and will face Stephanie Gilmore in the semifinals.
'I just rolled with it and I didn't panic or anything,' said Tyler. 'When I saw a wave I just went for it. It turned out that I got two good ones and that was it. So did Lakey (Peterson); she only had two as well. Lakey is a phenomenal surfer and the type that if you give her an inch she'll make you pay for it.'
The last quarterfinal of the day saw a match-up between five-time ASP Women's World Champion Stephanie Gilmore and rookie Dimity Stoyle (AUS), who were both fighting for the last spot in the semifinals. It was a tight heat with Stoyle challenging her more experienced counterpart to her best ability, but owing to deteriorated conditions neither were able to put up big numbers. In a last effort to make something of nothing, Gilmore used her intimate Bells Beach knowledge and experience to find an 8.00-point ride and move one step closer to claiming her fourth Rip Curl Pro Bells Beach title.
'It was a very difficult heat against Dimity,' said Steph. 'She has been a surprise package the whole year. The swell was a little bit smaller today and these were the perfect conditions for her. I knew if she had the right little pocket on the wave then she would do turns that the judges would really reward. I had to just do my best and figure out a way to beat her.'
Courtney Conlogue  (USA) suffered an ankle injury in her morning free surf, forcing a last-minute withdrawal from the event. The incident advanced Manuel directly to the quarterfinals.
Rip Curl Women's Pro Bells Beach Semifinal Match-ups:
Semifinal 1: Sally Fitzgibbons (AUS) v Carissa Moore (HAW)
Semifinal 2: Tyler Wright (AUS) v Stephanie Gilmore (AUS)
Rip Curl Women's Pro Bells Beach Quarterfinal Results:
Quarterfinal 1: Sally Fitzgibbons (AUS) 17.10 def Malia Manuel (HAW) 15.50
Quarterfinal 2: Carissa Moore (HAW) 17.84 def Coco Ho (HAW) 13.77
Quarterfinal 3: Tyler Wright (AUS) 12.94 def Lakey Peterson (AUS) 10.66
Quarterfinal 4: Stephanie Gilmore (AUS) 13.17 def Dimity Stoyle (AUS) 6.17
Rip Curl Women's Pro Bells Beach Round 4 Results:
Heat 1: Malia Manuel (HAW) v Courtney Conlogue (USA) (Heat did not surf)
Heat 2: Carissa Moore (HAW) 17.26 def Nikki Van Dijk (AUS) 14.10
Heat 3: Lakey Peterson (USA) 15.34 def Bianca Buitendag (ZAF) 5.20
Heat 4: Dimity Stoyle (AUS) 11.50 def Laura Enever (AUS) 8.43