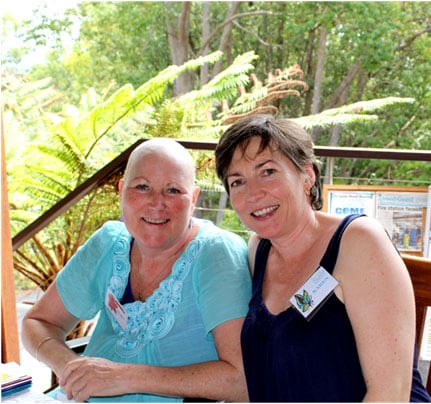 Meredith Dennis knows first-hand what it feels like for a family member to have palliative care and pass away peacefully at the Wedgetail Retreat hospice.
The president and volunteer coordinator of Tweed Palliative Support, which runs the Murwillumbah hospice, had her parents visit her last year from Adelaide when her 85-year-old father's health suddenly deteriorated. He was diagnosed with advanced lung cancer.
Stanly Dennis went from hospital to Wedgetail Retreat hospice, where he spent a month with the whole family and friends in its beautiful, relaxed surroundings before he died.
Knowing the benefits the hospice and palliative support service can provide, it's hard for Ms Dennis to accept that the government won't fund its nursing services.
NSW's only independent, community hospice, Wedgetail Retreat, is a modern, purpose-built facility that was built following an interest-free loan from an anonymous donor.
The building is almost paid for through community fundraising and proceeds from the service's op-shops.
Now the service is again having to turn to the community to ask them to help find the almost half-a-million dollars needed to employ much-needed round-the-clock nursing staff after being knocked back by the state government.
'In 2013, health minister Jillian Skinner announced $35 million of funding for community-based palliative care,' Ms Dennis told Echonetdaily.
'We submitted a detailed proposal but the money went to two main providers and the funding will not reach Wedgetail Retreat hospice.
'None of those millions of dollars will reach our services that are strongly supported by clients of local hospitals such as Tweed, Murwillumbah and John Flynn.'
'The demands for palliative hospice care are growing, so having an almost empty hospice is very frustrating.'
The hospice provides accommodation, meals and cleaning at no cost to palliative clients and their family.
But currently the clients can only stay at the hospice if they have their own full-time carer or nurse staying with them day and night.
'This greatly reduces the options for many palliative clients who would like an uplifting, tranquil alternative to their home or busy hospital for their final days or weeks,' Ms Dennis said.
'Our combined services have also seen local toddlers, young adults, mums, dads and grandparents among our clients who are in need of our palliative support.'
Medical director of palliative care at Tweed Hospital, Dr Graeme Burger, said, 'Over the past 16 years, I have witnessed the incredible value of their work and the enormous contribution that they provide to palliative care in our community'.
Faced with no funding and no avenues of appeal to government, Tweed Palliative Care is now asking for community donations to fund the employment of nurses for the hospice.
'We now rely solely on community support to fund the work that we do,' Ms Dennis said.
Donations can be deposited securely online at www.wedgetailretreat.com.au and www.tweedpalliativesupport.com.au.