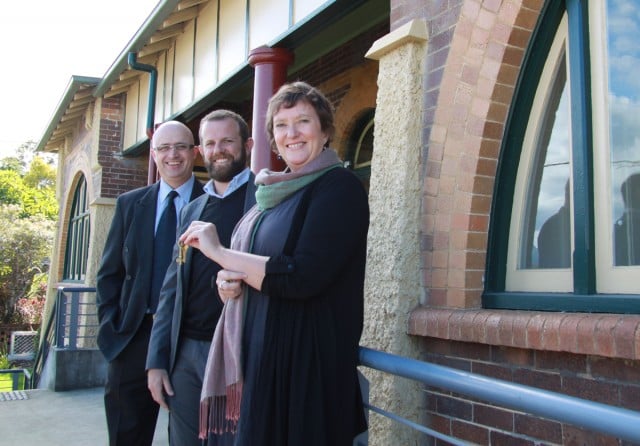 More than a year after it closed, and with several million dollars' worth of renovations completed, the Tweed Regional Museum at Murwillumbah is nearly ready to occupy.
But it will take several more months to set up displays and offices before it is ready for the public to take a peek.
Yesterday marked the official handing-over of the keys by builder Matthew Ware to the museum director Judy Kean and Tweed GM Troy Green in a ceremony at the now-upgraded building in Queensland Road.
Ware Building moved offsite in late April after completing the new architecturally designed addition and refurbishment of the former Tweed Shire Council Chambers, which was originally constructed in 1915.
'This is a very exciting time. The key handover marks progress to the final phase of this extensive redevelopment project,' according to mayor Barry Longland.
'Work onsite has moved very smoothly and we are very pleased with the result.'
The project began in earnest in February 2012, with the cataloguing and packing of the museum collection in preparation for the upgrade.
This was followed by demolition of a number of outbuildings and construction of a large retaining wall to allow the extension to be built.
Preparations have also included construction of a new climate-controlled facility to store the collection while the extension is completed and to provide added flexibility in exhibitions of the collection.
'It is satisfying to reach this stage of a carefully scheduled sequence of events,' Ms Kean said.
'An enormous amount has been achieved, thanks to the dedication of many volunteers, Council staff, building contractors and museum staff.'
But there's plenty more to be done before the museum opens to the public.
'We have already identified and prepared more than 200 collection items for display, with a similar number still to be worked on.'
During May and June, a range of community groups and sponsors will have the opportunity to visit the museum for a preview of the new-look building before the installation of new displays begins.
'New showcases will then be delivered and installed in July, before the very final phase of installing the new displays,' Ms Kean said.
The museum is scheduled to re-open to the community in late August this year. For further information visit museum.tweed.nsw.gov.au.