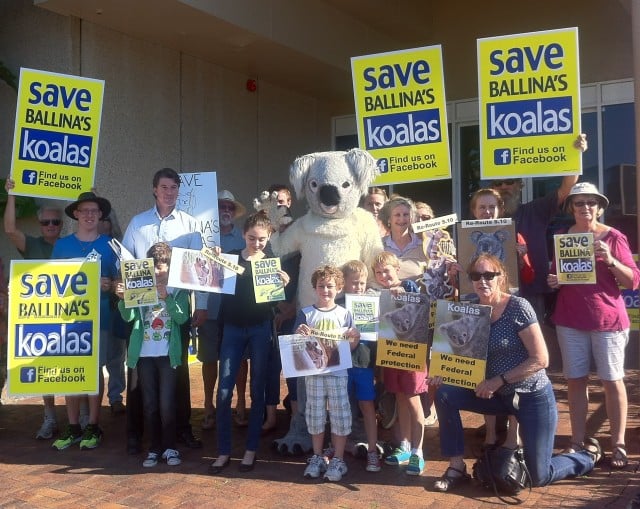 Darren Coyne
Federal Environment minister Greg Hunt seemed 'genuinely interested' in concerns raised by campaigners trying to save Ballina's koala population from a Pacific Highway upgrade.
Members of the Save Ballina's Koalas campaign met with the minister yesterday to discuss re-routing section 10 of the highway upgrade, which passes through important koala population areas defined in Ballina's Koala Habitat and Population Assessment study.
Campaign coordinator Jeff Johnson told Echonetdaily that the minister had given an undertaking to get further information, and was 'impressed that we provided an alternative proposal'.
Cr Johnson said the alternative was cheaper, followed much of the existing highway route, and avoided areas of sensitive cultural and environmental importance.
Thousands of people have written to the ministers responsible for approving the route. More than 10,000 people have so far signed the petitions in circulation. Ballina Shire Council has called for reconsideration of the proposed highway upgrade route between Broadwater and Wardell.
The NSW government is finalising its report for the Federal minister to consider before the proposed route is approved.
Cr Johnson said once the minister had received that report he had 30 days to make his decision, which meant campaigners should increase their pressure with emails to the minister, and Ballina MP Don Page.
He said the proposed route was home to more than 30 threatened or endangered species.
'Furthermore, an alternative route could also deliver the highway upgrade sooner, which would be good news for everyone,' he said.
Cr Johnson was accompanied by koala ecologist Dr Steve Phillips, who said the minister's decision would be a real test for Federal environment laws designed to protect nationally listed species.
'There is clear evidence that this highway would decimate and lead to the local extinction of Ballina's koalas, which is considered a nationally significant population,' Cr Johnson said.