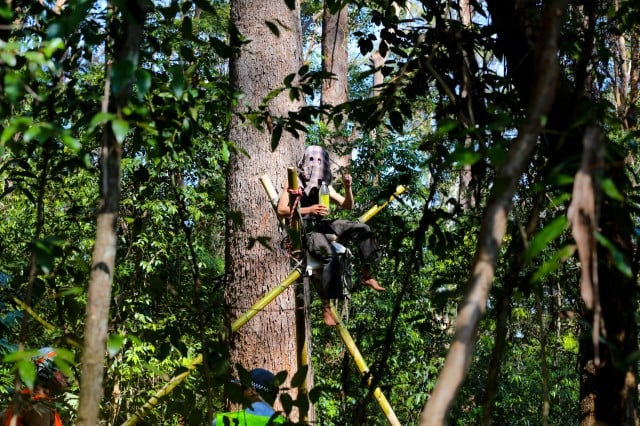 Nina Lucas
Proposed NSW government changes to the rules governing the clearing of native vegetation on private land could undermine the current ban on broadscale clearing.
Native vegetation plays a vital role in supporting biodiversity and ecosystems which is particularly important in the northern rivers as one of Australia's most biologically diverse regions. Vegetation clearing is a major contributing factor to biodiversity loss, soil erosion, salinity and climate change.
The Native Vegetation Act 2003 has been in force for over a decade to regulate native vegetation on privately owned rural land. The act has dramatically reduced the extent of land clearing approved in NSW and, in doing so, has saved the lives of hundreds of thousands of native mammals, as well as protecting forests and woodlands.
Under the act, a landholder requires either development consent or a property vegetation plan (PVP) to clear remnant native vegetation or protected regrowth. 'Clearing' does not just mean cutting down trees. It also includes thinning, removing native vegetation (eg with a bulldozer), clearing groundcover (eg by ploughing), poisoning (eg by herbicide spray drift), ringbarking, uprooting, or burning native vegetation.
Consent required
A rural landholder who wishes to carry out land clearing or engage a contractor may either apply for development consent or negotiate a property vegetation plan (PVP) with Local Land Services. A PVP will identify which areas of land may be cleared, which vegetation must be kept as an offset, and what sort of farming practices can continue to be carried out on the land subject to the PVP. PVPs are voluntary, but once made they are binding and legally enforceable. A landowner who carries out clearing in breach of their PVP is committing an offence.
There are, however, some exemptions that permit clearing without the need for a development consent or PVP. For example, routine agricultural management activities (RAMAs) are permitted. RAMAs include the construction and maintenance of fences, dams, bores and farm roads, collecting firewood, and lopping for stock fodder.
Ineffective monitoring
However under the proposed new regulations there will be self-assessable codes for certain types of clearing, including: thinning native vegetation, clearing isolated paddock trees in a cultivated area and clearing invasive native species. These codes would allow a scale of clearing which goes far beyond what was originally envisaged under the current law. In EDO NSW's opinion they are also not capable of being effectively applied, monitored and enforced.
EDO NSW lodged a submission on the changes, which, along with other public submissions, is currently being considered by the NSW Government. It is important to note that the codes are still in draft form and until they are implemented, the existing laws apply.
More staff
In order to ensure that the act continues to effectively prevent broadscale clearing, the NSW government should improve the current PVP process by providing more resources and more staff for Local Land Services, rather than experimenting with self-assessable codes, This would allow PVPs to be put in place much faster, whilst not compromising the environmental objectives of the current regulatory system.
In urban areas, land clearing is regulated under local environmental plans (LEPs) and development control plans (DCPs) which specify when development consent is required for clearing. Tree preservation orders (TPOs) are designed to protect trees in urban areas. You can find out if your urban property has protected trees under a TPO by contacting your local council.
Nina Lucas is the Outreach Solicitor at EDO NSW (Environmental Defenders Office NSW) in Lismore. For more information or help about this or any other environmental law issue, please call 1300 369 791 or email [email protected]