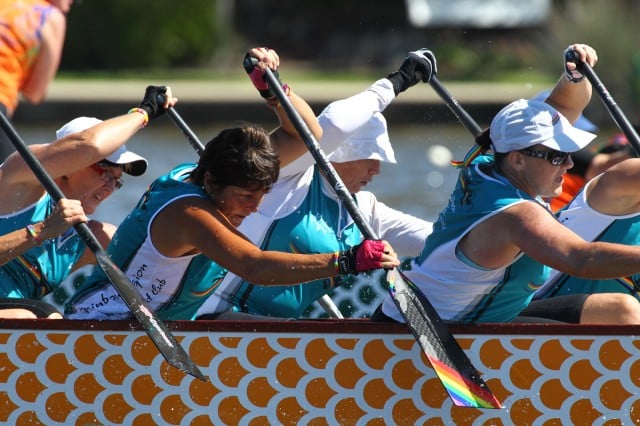 Dragon boat racing is a growing sport – anyone can participate on various levels in this wonderful activity. Here on the north coast we are lucky to have clubs that are always welcoming and have their doors open for those who would like to join in.
So far, 2014 represents significant advances in competition standard and personal bests for Rainbow Region Dragon Boat Club Inc. who are based at Lake Ainsworth in Lennox Head.
These results are not an overnight success. It is due to the club's commitment to constantly improving its coaching techniques and its members' depth of skills.
Sydney's Chinese New Year Regatta attracts teams from around Australia. All three Rainbow Dragon Masters teams (Women's, Men and Mixed) and the Cancer Survivors team made it to the finals, against some teams with younger paddlers and a larger number of men.The Cancer Survivors team (18) raced against full boats (20) and missed a trophy by 0.5 of a second.
The Rainbow Dragons showed their growing strength at the inaugural Clarence Coast Dragon Boat Regatta at Lawrence, late February. Rainbow Dragons lead from the first corner of the long distance race (2km), while Grafton capsized in the choppy conditions. Before racing was abandoned, due to more wild weather, Rainbow Dragons won all the sprints and set the regatta's course records.
In April, the club's 'Rainbow Warriors' women's team competed at the Australian Championships, at Lake Kawana, Sunshine Coast. This was the club's first national competition, yet the Warriors held their own against some very experienced teams.
The Women's Senior A and Senior B teams both qualified for the semi-finals in the 10's boat category (only 10 paddlers)  and the Women's Senior A 20's came 6th in the major final, which was won by the Brisbane River Dragons, former world champions.
Later in that week of racing, four Rainbows Dragons who were New South Wales silver and bronze medalists went on to represent their state, bringing home one gold and two bronzes.
Recently, at the Urunga Regatta, Rainbow Dragons took out third place in the 6.8km race; their Women's team came second in the 200m sprints to the North Coast champions, the Kempsey River Rats; and the Men's combined team brought home another third.
The Rainbow Dragons have maintained their lead in the Northern Pod point score (competing with other clubs in Northern NSW), and are ranked 32nd in the Australian Masters Club Championship.
For more information on the Rainbow Region Dragon Boat Club, visit their website: http://www.rainbowdragons.com.au