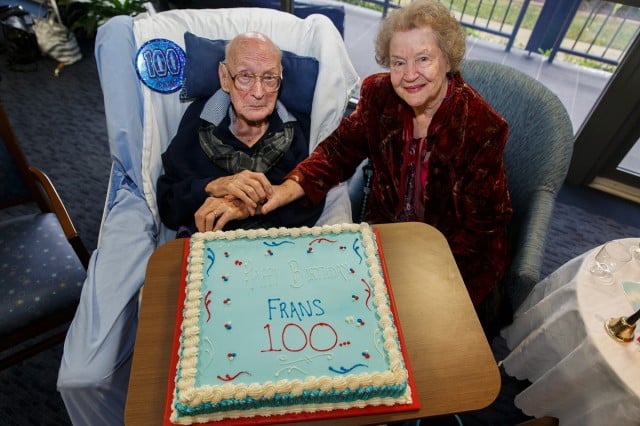 A hundred years is a long time to be on this planet and Franciscus (Frans) Valentijn Ruhl has certainly lived a full life in that time.
Frans celebrated his centenary last Wednesday at home at the RSL LifeCare [email protected]
Born 1914 Indonesia in 1914, Frans reached Gymnasium (high level high school) in Amsterdam and went to University in Delft  where he studied electrical engineering, aircraft design, medicine, science and languages.
Frans was always passionate about technology of all sorts and bike riding, he travelled extensively through Europe with his homemade portable radio hanging from his handlebar, books, classical music and he studied piano for seven years.
In 1941 he joined the Royal Dutch Airline (KLM) and was sent to Indonesia to work at the subsidiary Garuda Airways.
At the outbreak of the war, it became the office in 19th squadron (Dutch aviation squadron) and Frans became POW when Japanese invaded
in 1945 Due to the total destruction of the Jakarta airport, and the squadron was moved to Archerfield in Brisbane.
In 1947 Frans was a delegate representing Holland at the 20 nation meeting of the first postwar International Civil Aviation Organisation in Melbourne
He married a gorgeous Toowoomba girl called Naomi Renaud in 1947 and the pair moved back to Indonesia where he worked for KLM again for the  next 14 years before moving to Holland 1957.
Frand and Naomi emigrated to Australia in 1961 to join Qantas and for the next 10 years Frans worked on development of automatic landing systems, electronic circuitry of Boeing 747, development of combined computerised service analysis pad for Concord and the 747.
By the early 70s he rose to become the head of the Qantas service division. He also learned to speak fluent Japanese.
It was in1975 that he moved to Kuala Lumpur to set up MAS world class service division and then in 1982 he retired back to Brisbane.
Frans has since been very active in the RSL and taught computing at 3UA. In 2007 Frans and Naomi moved to Byron Bay where he currently resides.
Frans celebrated his big day at the RSL aged care in Byron Bay surrounded by letters from the Queen, Prime Minister, the NSW premier and several other government offices as well as friends and relatives at a gala luncheon on Saturday.