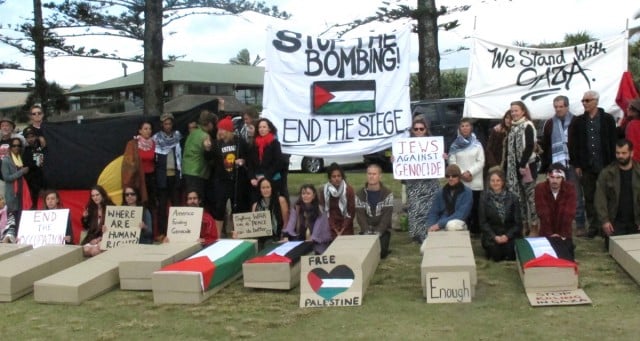 Harsha Prabhu
More than 150 people marched silently through Byron Bay in solidarity with the people of Gaza on Sunday.
The marchers, including mums with babies in prams, held a banner reading 'Stop the Bombing, End the Siege'. The march was part of a worldwide movement of civil society to protest the Israeli government's attack on Gaza, which speakers described as 'genocidal'.
Aboriginal Githabul tribal elder Yillah led the march, followed by mourners carrying coffins made out of cardboard to symbolise the more than 300 killed in the Gaza massacre. People carried placards that read: 'Bombing Civilians is a War Crime'; 'Jews Against Genocide'; 'End the Occupation'; and one brandished by a young girl said simply 'Enough'.
Jenny Bush, from Wilsons Creek, who was there with her grandkids said, 'Last year I did a study tour in the West Bank with the Israeli Committee Against Demolitions. I was horrified by what I saw. I am Jewish. I came here to oppose the horror show that Israel is [conducting] in Gaza. Judaism is not Zionism.'
Bassam Shomali, from Tyagarah, was born in Beit Sahour, very close to Beit Lahaim (Bethlehem) and is a Palestinian Christian.
'The army bulldozed over a thousand of our olive trees. Both my mother and brother were shot at by the Israeli Defence Force,' he said.
'My cousin was tortured and spent a year in a one-metre cell. He couldn't walk for three months. My people were shepherds at the time of Jesus. We were the first Christians. But, as a Christian, I do not have the right of return to my lands,' Bassam said.
Addressing the marchers at Main Beach elder Yillah said, 'Innocence dies in the streets of Gaza, and we sit back in silence', to which the crowd cried 'Not in our name'.
Yillah went on to say, 'We as a people know what it's like to be occupied. We have not yet received a proper apology from the Queen or the government. We can identify with the Palestinians. My spirit goes out to them.
'I call upon the Australian government, members of parliament, to speak up. Mankind cannot close its eyes to what is happening in Gaza.' His message to Palestinians was, 'Stay strong in your spirit, your soul and your mind.'
One speaker said, 'It's all about the gas reserves off Gaza, it's about the money.'
Another talked about how Israel had become 'a military boot camp, it's children fodder to the war machine, fed by a racist Zionist ideology that had led to Jewish fascism.'
One said, 'Our solidarity helps to break down the walls.' Another added, 'Don't think you are too small to make a difference. Speak up.'
Activist Rihab Charida, one of the organisers of Sunday's march, pointed out that Australia and Israel were both occupying governments, settler states.
'Before we talk about Palestine we need to talk about the occupation here,' she said, adding, 'Gaza is an open-air prison.'
'This is not the first attack on Gaza. While governments and world powers remain silent people around the world are speaking up. Enough is enough. Free Palestine.'
Byron being Byron, it was the Last Hippie in Byron Bay who had the last word: 'Love and light to Palestine.'
– Harsha Prabhu is a local activist and supporter of the movement for a free Palestine