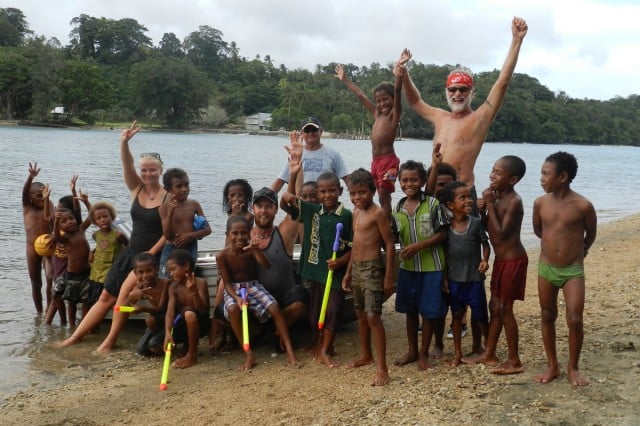 A recent mission to supply villagers in Papua New Guinea with basic needs has been hailed such a success that the organisers had to say 'no more!' to donations.
Mullumbimby realtor Mark Cochrane and wife Alison have just returned from a trip to one of our closest neighbours and – along with a few other locals on the journey – have made a big difference to villagers in the Louisiades and Trobriand Islands.
Mr Cochrane told The Echo, 'We'd like to thank all those people and companies who gave so generously to help our effort on this our second trip. You have no idea how gratifying it is to give a chap like 84-year-old Wesley from Bentley Island a pair of glasses for the first time in his life.
'Wesley said, "Mark, now I can see to put the hook on my line. You don't know how much this means to me and my family!"'
The biggest donors, according to Mr Cochrane, included Craig Watson's pharmacy, Soul Pattinson, with 17,000 analgesics plus malaria medications.
'Other big donations were made by Sanctum Billinudgel, Brunswick Holistic Dental and Farmhouse Gourmet (formally Pacific Plantations) at Brooklet.
He says it was mostly Mullum people who donated the kids' clothing.
'We even had to say "no more" as we had a pretty strict weight limit seeing as we had 6,000 litres of fuel plus all our own food for three months at sea.'
Half a tonne of clothing shipped
After a rough crossing of the Coral Sea, Mark and Alison arrived with half a tonne of clothing, nearly 500 pairs of reading glasses, 800 tooth- brushes, over 200 caps and thousands of analgesics and other medical requisites for local health outposts as well as lots of fishing gear and educational material.
'We arrived less than a week after Cyclone Ita had severely damaged many villages and flattened the local people's long-established gardens.
'The villages we visited have no power, no real health services and rely on fishing and small crops to survive.
'It's hard to get your head around the level of poverty; it's so widespread despite the fact these people work so hard.
'Women often work bare footed all day in their gardens while men go to sea in dugouts for long hours day and night in the hope of catching protein.
'Occasionally never returning – a dugout log is not a very seaworthy vessel.
'We met many kids aged up to eight years who'd never seen a white person before and this is a wonderful and humbling experience.
'First comes the "fear", then the inquisitiveness and then the acceptances and infatuation. One local teacher called us "white angels". We can't claim that title but can pass the compliment on to all those who donated to our trip.
'We hope to go again next year so if you have old tools like chisels, hammers, saws, and things like fishing line and hooks etc then keep them ready if you'd like to help again.
'Good on you, Byron Shire, and thank you all again.'