Darren Coyne
Australia is in the midst of 'early onset fascism', a Lismore rally against Tasmania anti-protest laws heard yesterday.
The proposed laws would create mandatory prison sentences for people who on two occasions gathered on public land to protest, if they slowed or hindered a vehicle registered to a business.
They are widely seen as squarely aimed at anti-logging activists but have been labelled discriminatory and out of balance.
Former Greens leader Bob Brown told a gathering in Hobart at the weekend that the laws would have jailed 'Ghandi and Jesus Christ himself'.
On Tuesday, 100 people in Lismore gathered in solidarity to protests happening around the country in opposition to the Tasmania laws, which if implemented in NSW, would have led to fines of up to $2000 for Bentley anti-CSG protesters, and three month jail terms for second offences.
Aiden Ricketts, author of the Activist's Handbook, told the Lismore gathering 'we are certainly living in the times of early onset fascism'.
'Restrictions on trade unions against secondary boycotts are examples of that onset fascism,' he said.
'Recently In Victoria the protest laws so police can move people arbitrarily away from protests, in Queensland there are the VLAD (Vicious Lawless Association Disestablishment) laws, and all sort of unspeakable horror in terms of peoples' rights.'
Lismore coordinator Emma Capp, who has just returned to the northern rivers after seven years in Tasmania, said 'laws like this would dramatically affect the numbers of people wanting to stand up against CSG or to protect the Great Barrier Reef'.
Coordinator of the actions around Australia, Miranda Gibson, described the laws as a 'direct attack on democracy'.
Ms Gibson, who spent 451 days in a tree trying to protect rainforest in southern Tasmania from logging last year, said the laws would be a dangerous precedent.
'This is one of the most draconian pieces of legislation seen in Australia, and if passed in Tasmanian could set a terrible precedent for other states and territories. ' Ms Gibson said.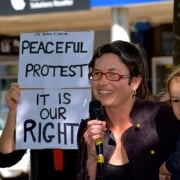 'These laws are a direct attack on democracy. They are aimed at silencing the community, while allowing companies to be shielded from criticism or scrutiny from the public.'
Tasmania's resources minister Paul Harris told ABC however that 'the legislation currently before the Parliament does in no way diminish or take away from the opportunity for anyone to peacefully and legally protest,' he said.
The bill has passed the Lower House and will now be considered by the independent-dominated Upper House.
The Tasmanian government has said the laws were designed to protect business owners and not to prevent people from protesting.
Meanwhile, Lismore activists will gather again this Saturday at the Italo Club at 5pm for the Rage Against Abbott concert.