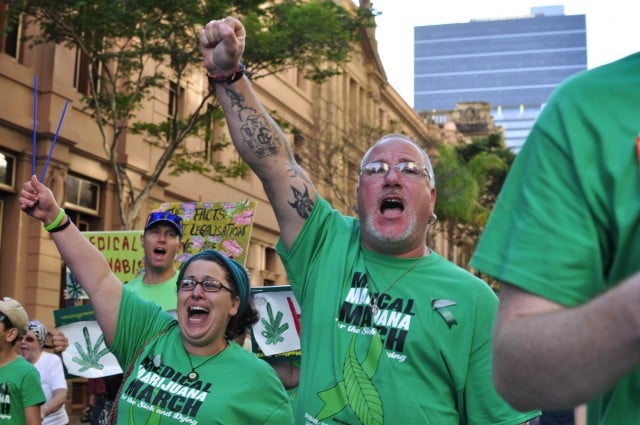 Maleika Halpin, Luis Feliu and AAP
Terminally ill patients will soon be able to legally use cannabis in NSW as the Baird government moves closer to soften its stance on the medical use of the drug by announcing a new clinical trial.
But the new measures allowing police the discretion to charge a terminally ill patient using cannabis has come under flak by the Greens and some Labor MPs who say a clinical trial is no substitute for immediate legalisation.
The NSW Greens say the move is a 'timid and flawed tiny step forward' and are pushing ahead with their bill to provide exemption from prosecution
Premier Mike Baird made the announcement yesterday, saying he was moved to act after meeting cancer patient Daniel Haslam, who has been using the drug illegally to relieve his suffering.
It followed rallies and marches around Australian capital cities on Sunday attended by thousands of medicinal marijuana supporters as part of a national protest to end the prohibition. In Brisbane, northern rivers campaigners joined members of the Haslam family.
Mr Baird said the move formalises what police are already doing.
'We want to give the terminally-ill, their carers (and) their families greater peace of mind,' Mr Baird told parliament.
'We also want to ensure that carers aren't forced to watch their loved ones suffer when their pain can be alleviated.'
Mr Haslam's mother Lucy travelled to Sydney from Tamworth for the announcement, telling reporters she was 'elated' the government had thrown its support behind the medicinal cannabis cause and said she hugged the premier after he told her what he was about to announce.
However, Mrs Haslam said there was 'a long way to go' and that 'legislation to regulate the supply and distribution process will still need to come forward, and there's steps the federal government needs to take, too.
'But this is the start of a new era in Australian drug policy,' she told Fairfax Media.'
Her local member, Nationals MP for Tamworth Kevin Anderson, was expected to introduce a private member's bill this week to legalise medicinal cannabis.
But Mr Baird says there are still concerns about the drug's supply and distribution.
He has directed a working group to conduct a clinical trial for medical cannabis to look at those concerns. The group is due to report back by the end of 2014.
Momentum gaining
The announcement adds momentum to a growing national push to legalise cannabis for medicinal use.
Victoria's parliament is due to debate a bill to make it easier to conduct clinical trials for medical cannabis, and West Australian health minister Kim Hames has called for national trials.
Meanwhile, Queensland federal MP Warren Entsch is drafting a bill to allow for legal trials of cannabis to treat people with cancer, epilepsy and multiple sclerosis.
But Mr Baird stressed that cannabis remained an 'illegal and dangerous drug'.
'These reforms are about compassionate care, recreational use of drugs is illegal and will not be tolerated,' he said.
The NSW opposition earlier announced it would back moves to change legislation to provide a 'complete defence' from arrest and prosecution for the terminally-ill who use cannabis for medical reasons.
Greens NSW MP John Kaye said 'We waited for a courageous advance on medicinal cannabis and instead the premier delivered a timid and flawed tiny step forward.
'Mike Baird will leave the police with the discretion to prosecute a terminally ill patient seeking relief from their symptoms,' Dr Kaye said.
'By failing to provide a complete exemption from prosecution, the NSW Coalition has left the terminally ill with the same awful choices that they currently face.
'They still have to break the law and hope that the police will take mercy on them if they want to relieve some of their symptoms.
'The premier's proposed clinical trial is important but it will take a long time and is unlikely to deliver a useful answer on the use of crude cannabis.
'Mike Baird had the golden opportunity to jump ahead of his party's conservatism and work with a community that is ready for real progress on relief from pain and suffering.
'Instead he has opted for the smallest possible step in the right direction. Under the premier's plan, the police guidelines could be administratively altered, removing any protection for current and previous medicinal cannabis users.
Upper House findings
'We will now push ahead with our bill which implements the unanimous findings of the NSW Upper House Committee.
'Our bill will ensure that once a patient qualifies for a Medicinal Cannabis card, they and their carers will have absolutely no fear of prosecution.
'This is the least we can do for the dying and those who are suffering from the effects of chemotherapy,' he said.
'The overwhelming majority of the community supports real progress. This was a genuine opportunity to leave behind the legacy of hysterical responses to cannabis and take a broad and courageous view of its medicinal benefits.
'While Mike Baird failed to show real leadership, we do welcome his recognition that relief could be extended not only to the terminally ill but also to those with a range of debilitating illness.
'It is time for an honest discussion about intractable childhood epilepsies. The medicinal cannabis debate is far from over,' Dr Kaye said.
Victorian health minister David Davis said changes to the laws will make it easier for properly regulated trials to take place.
'The Victorian coalition government has listened, particularly to the concerns of parents who believe that some of these products can make a real difference to the health and quality of life of their children,' Mr Davis said on Tuesday.
'We are taking the lead in working with other authorities to ensure clinical trials of some of these cannabis compounds are conducted, while ensuring they are undertaken in a safe and ethical manner.'
Announcing the changes last month, Mr Davis said allowing the regulated cultivation of narcotics for clinical trials in Victoria would help ensure the quality of the product being trialled is of a good standard.
Earlier yesterday, Labor announced it would offer bipartisan support for the NSW legalisation and promised to take the policy to next year's election if the government did not change the law before.
North coast medical-cannabis advocate Tony Bower faces imprisonment for supplying free medicinal cannabis oil to his patients.
And more than 195,000 people have signed the Haslam family petition (via change.org) to support a new legislation.
Brisbane's Medical Marijuana March event organiser Joshua Waldron told Echonetdaily that the march for the sick and dying helped to override the stigma attached to the traditional cannabis protests.
'The most impacted are definitely those family members, being that the treatments in place at the moment are illegal,' Mr Waldron said.
The Haslam family launched a national campaign to legalise medicinal cannabis in support of their 24-year-old son Dan uses cannabis to relieve nausea associated with chemotherapy to treat his terminal cancer.
---