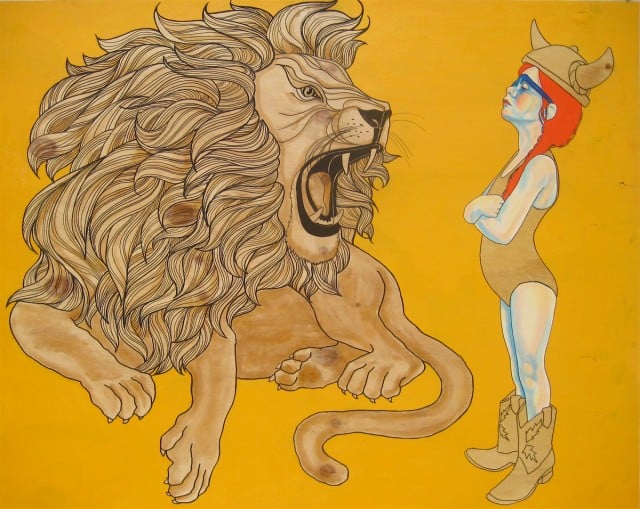 RAW Byron Bay Artist of the Year 2013 had Carmel Debreuil has reached new goals with the recent announcement of her inclusion as a finalist in the Portia Geach Memorial Award.
'I'm so blown away to be chosen as a finalist – my heart is thumping and I'm jumping for joy! I've entered my painting The Lion and the King, a portrait of my amazing muse Jaida King. She has been my model for over 25 paintings and for me is a perfect example of the spunky, courageous and sassy little Australian women!'
Debreuil paints with bold acrylic colours on plywood, using the knots of the wood as a feature of her artwork. She is well known for her quirky nostalgic paintings of children wearing glasses, cowboy boots and viking helmets, often posed with outsized animals. Debreuil is a prolific artist and has created over two hundred pieces in the last couple of years alone. She has particpated in many group and solo shows, the most recent being a successful solo at the Brisbane Modern Art Gallery. She has been featured in online blogs and magazines including Ink and Arrows from the US and Queensland Living magazine.
'This is definitely a highlight of my career to date. There are so many talented female artists in the exhibition and I'm really looking forward to hanging in such good company. The S.H. Ervin Gallery is a beautiful space in a beautiful environment and I can't believe one of my little muses is going to live there for a month. I hope she and her lion don't leave dirty footprints on the carpet!'
The Portia Geach Memorial Award Exhibition is held at the S.H. Ervin Gallery on Observatory Hill in Sydney. Opening Night is November 6   and the show runs until December 14 .