With so many people in the northern rivers on the frontline at Bentley, it's not surprising that Rock the Gate, the biggest anti-fracking awareness gig in Australian history, was born here.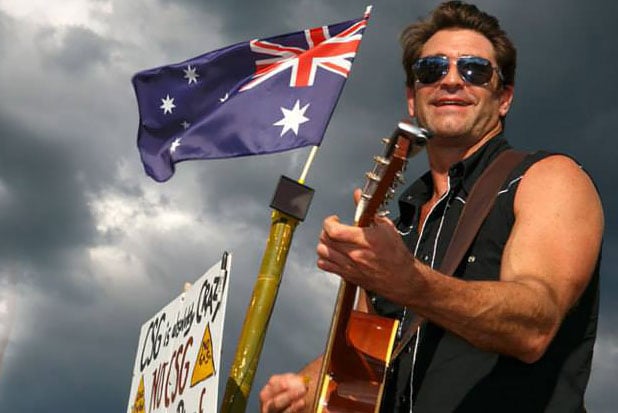 Rock the Gate will take the Lock the Gate message to Sydney next week when on Sunday November 23 for Rock the Gate Sydney. Some of Australia's most beloved artists including Pete Murray and David Bridie, iconic hip hop act The Herd, blues guitar award winner Ash Grunwald, rock legends Tex Perkins and the Dark Horses, queen of the Australian roots scene Natalie Pa'apa'a from Blue King Brown, US roots stars Nahko and Trevor Hall and indigenous dub act Diesel n' Dub, headline an amazing Rock the Gate event.
Comedians, indigenous dancers and community members who have been affected by the fracking industry will all feature at the Enmore Theatre. Satellite venue The Town Hall will host alt country; The Sly Fox will deliver conscious hip hop; The Midnight Special will see a dedicated blues event take over, there will be electronica at Secret Garden, and The Green Room and The Warren View will host acoustic artists.
Presented by Uplift and Lock The Gate, a line-up expansion has been confirmed and the event has grown to include a massive seven-venue, 64-band program, with Sydney's iconic music venue, The Enmore Theatre as its anchor.
This will be Australia's biggest concert to support the rural communities who are uniting to protect their farmlands from fracking and unconventional gas mining.
In a campaign personally endorsed by Yoko Ono, who is famously active in the fight against fracking, Rock The Gate Sydney is officially the biggest concert of its kind ever held in Australia, with all ticket proceeds going directly to Lock The Gate.
The full line-up:
ENMORE THEATRE – MAIN STAGE
Pete Murray
The Herd
Ash Grunwald
Tex Perkins And The Dark Horses
Natalie Pa'apa'a [Blue King Brown]
Diesel n' Dub
Nahko [Nahko & Medicine For The People]
Trevor Hall
David Bridie
Radical Son
Bunna Lawrie
Stiff Gins
Holley Somerville Knott
Glover & Sorrensen
Mic Conway & Robbie Long
THE TOWN HALL – ALT COUNTRY STAGE
Programmed by Rock The Gate
Lacey Cole and the Lazy Colts
Leah Flannagan
Fanny Lumsden
The Protestors
The Re-Mains
Den Hanrahan
The Crooked Fiddle Band
Rusty Springs
Leroy Lee
Mic Conway and Robbie Long
Elana Stone
With special Guests Drag The Gate (Drag Queens in support of NO CSG)
THE SECRET GARDEN- ELECTRONICA STAGE
Programmed by RE-GEN
Biolumingen (USA)
DAKINI
Bumble
Daheen
Heebee Jeebies
Itsu
Deep Cycle Vs BFG
THE WARREN VIEW – ACOUSTIC STAGE
Programmed by Art Party
Golden Orb
Son of Sun
Geneveive Chadwick
Fallow Brook
Nic Cassey
Puck The Mindfuck
Deep Sea Lights
Alexandra Hughes
THE MIDNIGHT SPECIAL – BLUES STAGE
Programmed by Rock The Gate
Groove Depot
The Continental Blues Party
Dr Don's Double Dose (Don Hopkins)
Big Blind Ray And The Goodtime Rhythm And Blues Band
Cass Eager and the Velvet Rope
THE SLY FOX – CONSCIOUS HIP HOP STAGE
Cooking With Caustic
Coda Conduct
Mighty Ash
Relevant
Spectacles
Madam Wu & Elise Graham
MAATZI
Mighty Ash
Prince Naeem
Charles Oblivion
Felon & Provocalz
Sarah Connor
Susan Ross Foundation
Sweat Collectors
THE GREEN ROOM – ACOUSTIC STAGE
Paul Mbenna & the Okapi Guitar Band
The Gloomchasers
Terry Serio & the Half Truths
Hayward Williams (USA)
ROCK THE GATE SYDNEY
Sunday November 23
Tickets now on sale for $70 + bf
Enmore Theatre Box Office
TICKETS
www.rockthegate.org