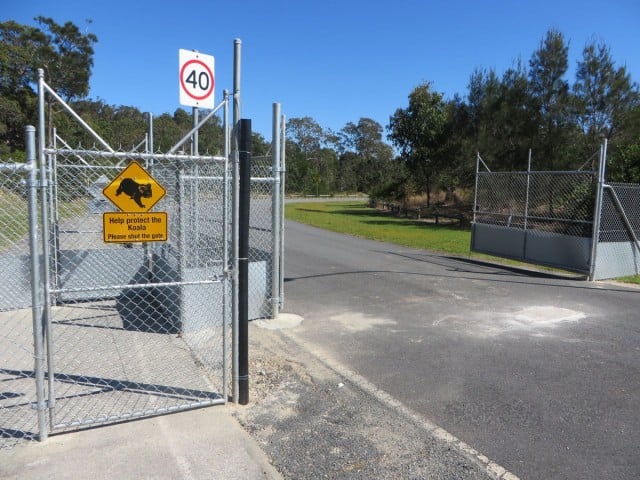 Luis Feliu
A move by a Tweed shire councillor to unlock gates protecting koalas around the Black Rocks sports field south of Pottsville has outraged koala campaigners.
Tweed Shire Council's first meeting for the year next Thursday is expected to be packed out by koala supporters to hear debate on Cr Barry Longland's controversial notice of motion to remove the entrance gates 'as soon as possible'.
Cr Longland claims that the trial of locking the gates at night has been a 'failure with significant negative impacts for the public' and says 'the removal of the gates as a matter of priority will restore access to public open space for the benefit of Tweed residents'.
But Team Koala says any backflip on Tweed councillors' decision last year to close the gate at night when koalas are more likely to be on the move will 'shake the community's confidence'
Team Koala president Jenny Hayes said the area had been a magnet for hoons, particularly at night, which was the main reason for having it locked after hours.
Cr Longland, in his first notice of motion for the year, also calls for a staff report to look at options to address the impacts of 'hooning' behaviour on the entrance road to the playing fields.
But Ms Hayes has dismissed the move saying Tweed Coast's endangered koalas w'ill be dealt yet another blow' if Tweed Council backflips on its decision to install the night gate.
'The endangered Tweed Coast koalas already pushed closer to extinction by a recent fire are facing yet another threat, this time from people who should know better, Tweed councillors,' she told Echonetdaily.
'If Cr Barry Longland's motion to remove a gate from an open space area at Black Rocks succeeds, then yet another step to extinction will have been taken.
'The people actively engaged in protecting the last of Tweed Coast's koalas had negotiated a compromise with council, leave the gate open during the day and close it at night when koalas are more likely to be on the move. The area had been a magnet for hoons, particularly at night.'
'This sort of backflip will shake the community's confidence in council. We all heavily rely on councillors to protect our lifestyle and to do the right thing by the environment.
'I beg councillors to leave the gate in place and don't backflip on the decision they had made to open the gate during the day and close it at night,' Ms Hayes said.
Cr Longland, who originally voted to keep the gate locked at night, is expected to get support for his move from the National Party-aligned Crs Warren Polglase, Phil Youngblutt and Carolyn Byrne.