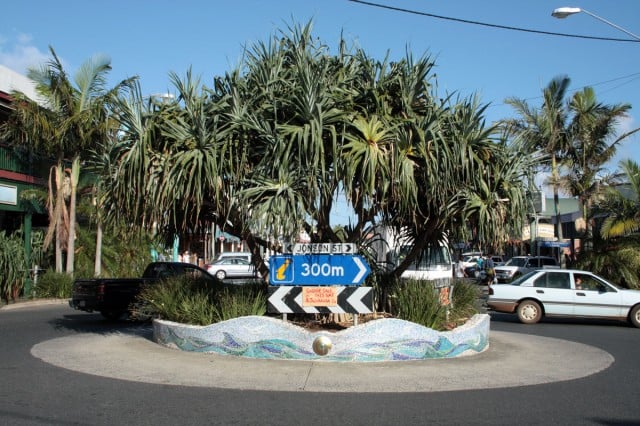 Hans Lovejoy
Byron's traffic problems have either been courageously tackled or wilfully exacerbated, depending on who you believe from last Thursday's Council meeting.
The conservative voting block of Crs Ibrahim, Woods, Wanchap, Cubis and Hunter over-ruled independent planning and staff advice and have asked that plans be prepared for the 'two lanes in' project.
It aims to construct an additional lane 50 metres north of the Caltex petrol station opposite the police station, and run two lanes from that roundabout to the other at Lawson/Jonson Street.
But the plan by Cr Rose Wanchap was reduced in scope after logistics hampered their project.
Items scotched include widening the railway crossing (which will be required), and a road up along the carpark towards Main Beach was excluded (located just before the second roundabout at Lawson/Jonson Street).
It's something which Cr Wanchap argues are 'very minor changes which have been advocated for by previous councils for a decade now.'
'Our traffic engineer Simon Bennett has produced a past report complete with engineers drawings, plans and approvals for this short stretch of road,' she told The Echo.
But the project will need to be given to Council's Local Traffic Committee for consideration, despite asking for 'advice and comment' prior to the project's commencement.
As for cost, $206,000 has been set aside for the project, which will be sourced from 'within s94 reserved for Byron Bay traffic management.'
During debate, Cr Di Woods told the gallery that, 'well in excess of $1m had been spent on traffic studies', and that 'they all indicated that one of the fixes is to do what's being proposed.'
Crs Woods also appeared conflicted: she said that while she voted for a town master plan, which is currently underway by consultants McGregor Coxall, she said, 'I don't think much will come out of it.'
'I believe they'll give us great plan, and don't question their ability. But our traffic issues have existed for 25 years or more, and they will continue.
'My understanding from McGregor Coxall is they wanted to drive traffic up to the beach.'
Cr Woods then said that, 'Any plan that [McGregor Coxall] have which says they can decrease the traffic into Byron is a furphy.'
Reduce v manage
But McGregor Coxall have told The Echo they are confident that they will be able to reduce traffic.
Additionally, they say that as they are in the initial stage, they had not even considered, 'driving traffic to the beach.' The head planner behind the town's master plan, Michael Cowdy, told The Echo that reducing traffic is 'one of our key goals.'
'We believe we can solve this, and what we have heard from the community is they want that.'
When asked about previous studies and general recommendations to push more traffic towards the beach, he replied, 'All those traffic studies have focussed on managing, rather than reducing, traffic.'
'Historically, planning decisions for the town have been ad hoc. What we are attempting is to produce a considered holistic plan, one that the community has had every opportunity to engage with.
'In March we have a further opportunity to progress these discussions with councillors and the local community.
'A series of workshops will further explore what may be possible and in three months time, we will have a strategy for the next ten years to present to everyone.'
Design on the run
During debate, an amendment by Cr Dey to include the plans as part of the Byron Bay master plan was voted down.
A clause included however in Cr Wanchap's motion states, 'Where practical and appropriate, this project [should] be designed and delivered with consideration of the Byron Bay town centre bypass.'
A rescission motion to repeal the plans has already been set in motion by Cr Duncan Dey, and will be considered at the next ordinary Council meeting on February 26.
The Echo asked Cr Dey what he hoped to achieve, given the councillors who control the chamber are unlikely to reconsider their position.
He replied, 'My own reason is that I am once again flabbergasted at how easily those five councillors reach into the community purse.'
'I am not opposed to the proposal, but want it to take its turn in the queues.
'I want professionals, not car drivers, to tell us this is good bang for these $206,000 bucks.'
He referred to the decision by those councillors last year to allocate $1m of public funds from roadworks to a rockwall on Manfred Street. 'Many potholes could have been filled with that money,' he says.
Panacea?
Meanwhile, Cr Chris Cubis told the gallery he couldn't see how the master plan is going to deliver a panacea to all the problems Byron Bay has.
'I can't understand the position that McGregor Coxall and the general manager have taken; that we should always hold off…
'Cr Wanchap also put this up before the master plan process had begun.
'What about the council that takes risks? We spent $200,000 on park and ride in the first year. What was the outcome of that? Can we argue that we won't get any benefit whatsoever from this?'
Not relevant
Cr Sol Ibrahim also claimed that the master plan 'is not relevant,' and proceeded to explain why he believes councillors should set aside big picture strategic planning for short-term goals.
'If the master plan suggests that we close entry at the Lawson Street roundabout, that will be a significant matter for us to deal with later.
'This proposal is not suggesting any new infrastructure, it is within the boundaries of the existing roadways.
'We are talking about bollards that were put in before, and are now talking about removing them. We know Butler Street will have to be redesigned when the bypass is constructed.' Cr Ibrahim also argued that outbound right- hand turns into First Sun caravan park and the petrol station are 'just silly.'