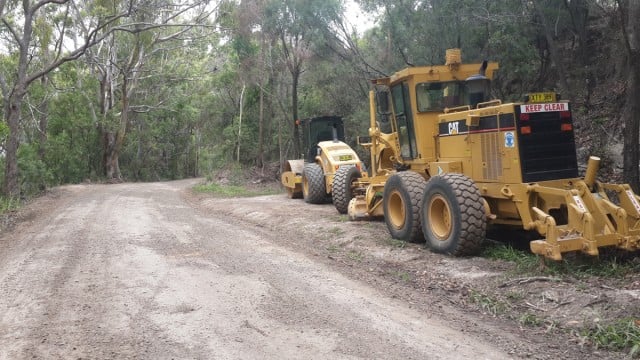 Neighbouring Byron and Lismore councils are set to push for state government funding to seal the gravel road  to Minyon Falls, one of the north coast's key natural tourist attractions.
Calls were made recently to upgrade the road to the popular picnic area of which around 1.7 kilometres of it is unsealed and in constant state of disrepair due to the high rainfall in the area.
The falls are visited by around 100,000 people a year.
Earlier this month, Byron shire council voted unanimously to liaise with Lismore City Council and National Paks and Wildlife Service (NPWS) to lobby for joint federal-state funding for sealing the road which straddles both local government areas.
The move, initiated by Byron mayor Simon Richardson backed by Cr Paul Spooner, also calls for Ballina MP Don Page and Lismore MP Thomas George to support the funding bid.
The two councillors said that given that the road is primarily used by large amounts of visitors to reach Minyon Falls in Nightcap National Park, the federal and state environment ministers be asked to help fund the project.
The bid is backed by NPWS rangers who manage the national park where the falls are located and who have described the road there as a significant hazard to users, which impacts on tourism.
Goonengerry local David Williamson, who has agitated for the upgrade, says sealing the road was long overdue with many other regional tourist attractions in the hinterland, including privately owned ones, benefiting from sealed access roads.
'Such an important tourist site should clearly have a better all-weather safe access. It should have bipartisan support from all,' Mr Williamson said.
Mr Page told Echonetdaily last month that he would approach environment minister Rob Stokes over the issue, saying it was an important road used by a  large numbers of tourists and locals.
Mr George told Echonetdaily he would support any application made  for sealing the road.
The official traffic counter on the road shows more than 100,000 vehicles use the road each year and Southern Cross University surveys indicate most visitors to the park drive from Byron Bay and Lismore.
According to Wikipedia, the 100-metre waterfall and nearby camping ground at Rummery Park in the national park are popular visitor attractions in the Nightcap National Park, which was added to the Gondwana Rainforests of Australia World Heritage Site in 1986'.
NPWS manages the area as part of the national park, and provides facilities for visitors, including a 50-metre steel boardwalk to the lookout, which is wheelchair accessible, several picnic tables and barbecue facilities at the top of the falls.