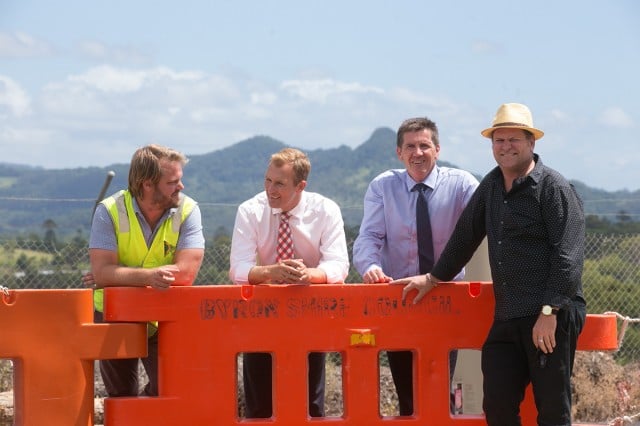 State government funding for green bin programs and community recycling centres at Byron, Ballina and Tweed shires have been welcomed by local mayors.
Environment minister Rob Stokes made the funding announcements for the grants, under the Environment Protection Authority (EPA)'s $465 million Waste Less Recycle More initiative, during a visit to the north coast this week.
They included $745,000 for Byron shire's green bin initiative set to be rolled out this year which involves a green waste and food organics kerbside collection.
As well, a $110,00 grant for Byron shire means it is able to offer a permanent free drop-off facility at the Byron Resource Recovery Centre at Myocum for residents to safely dispose of household problem waste and items.
Ballina shire will get $109,000 for its new recycling centre and the Tweed will receive over $70,000 to upgrade the Stott's Creek Resource Recovery Centre.
Byron shire mayor Simon Richardson said the grant 'offers a fantastic opportunity' for council to now offer a permanent free drop-off facility at the Myocum centre given the volume of the problem wastes generated 'continues to grow in our community'.
'The announcement comes at a great time, as council is also about to roll out a set of smaller satellite drop-off recycling stations for mobile phones, CFL light globes (the energy savers) and household batteries, which will be placed in Mullumbimby, Byron Bay, Brunswick and Bangalow,' Cr Richardson said.
Tweed MP Geoff Provest said the Stotts Creek centre 'will provide a service for residents to drop off problem waste that cannot be put in the kerbside bins including paints, oils, batteries, gas cylinders, smoke detectors and fluorescent lights for free'.
'It will build on the existing mobile Chemical CleanOut events by providing a permanent and convenient drop-off centre for householders to deposit the more common low toxic problem wastes for recycling,' he said.
Mr Stokes said the funding was part of the second round of Community Recycling Centre grants and followed more than $4 million awarded in the first round to 36 new Community Recycling Centres across NSW last year.
'We are well on the way of reaching the target of 86 centres,' he said.
Ballina mayor David Wright says its new recycling centre will reduce illegal dumping of problem household waste around Ballina shire, which was a big problem, and also meant Ballina residents don't have to drive to Lismore to dispose of paint, oil, batteries and the like.
During his visit, Mr Stokes also announced $1.8 million for local floodplain management in Kyogle.
The project involves a partial ring levee, an additional Fawcetts Creek flood breakout, finishing construction of the levee bank, flood breakout channel, river bank stabilisation, creation of easements and restoration of minor structures.
The minister also visited Dunoon Public School where he announced $17,500 funding for five school food gardens across the northern rivers (Dunoon plus Kadina High School, Murwillumbah Public School, Summerland Christian College and Woodenbong Central School.)