Chris Dobney
Five NSW state election candidates for the seat of Ballina faced their potential employers at a job interview (otherwise known as a meet the candidates forum) in the Byron Bay Community Centre on Tuesday (March 17).
Byron United Chamber of Commerce president Michael O'Grady chaired the meeting with an iron rod, ensuring candidates kept to their times and stuck to the point.
The sole absentee among them was Christian Democrat Vyvyan Scott, perhaps unable to face an audience in a town so much like the biblical Gomorrah.
Missing, too, was the ever-smiling face of Don Page, the fatherly figure who has represented Ballina for as long as most can remember (or the last 27 years at least).
CSG high ground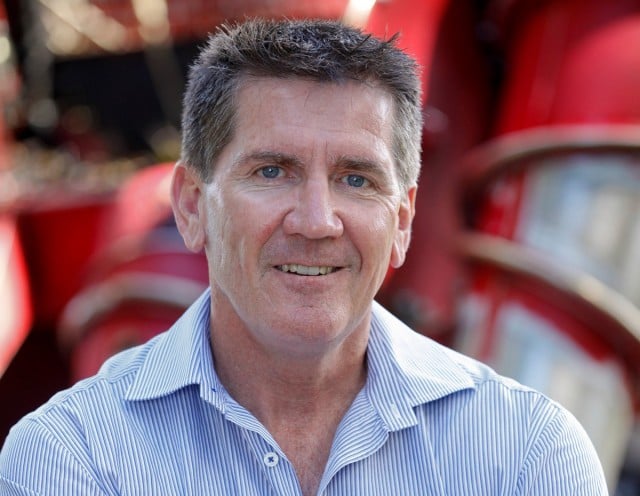 As became clear from the meeting, the replacement National Party candidate, Kris Beavis, has a little to learn about the art of politics.
He performed competently enough, for the most part, grabbing the chance to promote his favourite projects (rail trail, Byron bypass) while attempting to claim the high ground on the most contentious issue of the night: CSG.
'It's not just an issue of what we're going to do,' he told the audience. 'We're already doing it. We've pulled back some of those licences and we're going to continue to do that. Have the other parties costed their ideas [such as cancelling licences across the northern rivers]? Labor was very effective in putting in place legally binding contacts for mates,' he asserted.
He did not, however, point out that the coalition had renewed the contentious PEL 445, which covers much of the northern rivers and has since been on-sold to major mining player AJ Lucas.
Mr Beavis also denied Labor's claims that the West Byron development approval could be reversed, adding '[Byron Shire] Council had its chance' to assess the development and 'handed it over to the state', itself a debatable point.
'Safety net, not cargo net'
He was less effective in defending the unpopular [although admittedly mostly federal] withdrawal of funds from youth services and childcare, essentially turning it into a deregulation argument of allowing more mums to look after each others' children at home in 'family day care' type settings.
Mr Beavis also made the extraordinary statement that the job of government was 'not to put a cargo net under everyone but a safety net'.
Country Labor candidate Paul Spooner took the running on this and other related questions.
Mr Spooner looked the most comfortable of the group onstage at the community centre, which is not surprising considering he managed it for years before stepping aside to take his tilt at politics.
'Unprecedentetd attack'
He described the sate and federal coalition cuts to community services as an 'unprecedented attack' on the sector in Australia.
'We're seeing funding taken away –– $270 million was ripped out of the federal budget and organisations are disappearing – community organisations like BYS that have been going for 20 to 30 years. We need to get the for-profit sector out of this space. Labor will only fund not-for-profits, will fund them for five years and get rid of competitive tendering,' he said.
On the subject of Byron Central Hospital, he said Labor would keep it in public hands with the services we require'.
'When I fractured my ankle I had chance to talk doctors and nurses at the hospital about their needs. Day surgery in Bryon has been wound back so it's no surprise that figures have dropped.'
He said that in his role as councillor that he saw the operating theatre had been 'left out of the plans – and we started ringing alarm bells'.
Mr Spooner denied claims that compensation may be payable if rezoning of West Byron as residential by the planning department under minister Goward were overturned.
'Just as that power rests with Prue Goward, that determination can also be taken away.
'If we take that off the table the decision reverts to Byron Shire Council. No DAs are in the moment – this is the time to make the decision.
He confirmed that in his mind it was 'not about no development' but that any future application would be dealt with [by council] under the 2014 LEP'.
'Chequered 'CSG history
Mr Spooner was not so much on the front foot, however when talking about CSG.
To his credit he was quick to admit the errors of the past, which led to the previous Labor government papering the state with CSG licences.
'We have had a chequered history with CSG. When it came on the scene even the Greens were talking about it as a transition fuel. We have all learned from that. I was at Bentley – Jeremy [Buckingham] wasn't the only one there. I argued for this position – it has been adopted.
'It was the ALP in 80s that stopped north coast forests from being logged,' he said.
Mr Spooner added that it was on his instigation that the Santos [CSG mining company] donation to the ALP had been returned.
'I believe it had been handed over at a dinner or something like that,' he said. 'When I heard about it I approached Luke Foley and asked that it be returned – and it was,' he said.
'Hands dirty'
Greens candidate Tamara Smith is a mum and a schoolteacher as well as an environmentalist, and all of those strands showed through in her presentation on Tuesday night.
'We get our hands dirty and fight the fight,' she said on the issue of West Byron, adding it should not merely be decided on 'the question of compensation'.
'The calling-in powers of the minister are quite dramatic,' she said, 'and the minister can reverse that decision.'
But, unsurprisingly, it was on the issue of CSG where she gained the most traction with the audience. And it was where she was best able to illustrate the gap between the Greens and Labor.
'Luke Foley sees a place for CSG in NSW, the Greens do not. We already have 100 years of gas [in Australia] and there are other forms of revenue for this state. There are provisions to remove licences if there are breaches of conditions – and almost every one has had breaches,' she said.
'Jeremy Buckingham is being sued for speaking out against CSG. Our record is there – it is a matter of integrity. If it hadn't been for Jeremy I wonder if this would be an issue here tonight. The ALP has accepted donations for this campaign from the CSG industry. Clean politics is what the Greens stand for.'
Ms Smith said the Greens would support the inclusion of public operating theatres at Byron Central Hospital and would be making an announcement about it this week. She added, 'we think $100 million should go into preventive medicine, early intervention and better support for ageing in place.'
'Horrorshow'
She reiterated Greens support for the not-for-profit sector, especially in vocational education and referred to the party's policy on funding TAFEs and community colleges. She added that the Greens 'have treads on the boards' in working with groups like BYS.
'We're talking with them about coming back under council's umbrella. It's a horrorshow – groups don't know if they'll continue to exist from month to month and they are having to worry about funding instead of running services.'
Ms Smith also found time to talk about some heartland issues for Byron Greens including public transport, traffic and sustainability.
'It's an understatement to say there's been several decades of no strategic planning for this area. We're waiting like sitting ducks for the hospital, West Byron and Ewingsdale to come online. We're waiting with bated breath for a masterplan. The Greens want to move away from fossil fuels rather than the massive amount of cars coming into town.
She said the issue of trains or bike trails on the old tracks was 'not an either/or' and stressed the need to 'get away from binary politics'. 'There are jobs in renewables and public transport – with a combination of light and fast rail. I think engineers can come up with a strategic and viable route along the Pacific Highway to link up with Varsity Lakes from Ballina,' Ms Smith said.
'Community-driven'
Sitting almost at the opposite end of the table from Tamara Smith was Jeff Johnson, until recently a fellow Greens member and for the past four years a Ballina Shire councillor.
Mr Johnson cited his involvement in the grassroots Bentley and Save Ballina Koalas campaigns as reasons for his decision to break away, saying many people indicated to him that they would prefer to vote for an independent candidate.
He said a vote for an independent would provide 'balance in a hung parliament or, if there were a majority government, one 'more likely to be able to negotiate than a "wrong side" majority party member.'
He presented as someone passionate about the issues, and clearly someone who has thought about those affecting Ballina a lot. But he was on less certain ground when referring to those specifically affecting Byron.
Mr Johnson commended the Greens for opposing CSG but said it was 'clearly a community driven campaign'.
I moved the first motion [on CSG] at Ballina Council four years ago – one week after [independent] Simon Clough, who is national chair of Lock the Gate, did so in Lismore.
'I will continue to be there at the blockades if I have to and take senators to see the Qld wastelands.
'Ban CSG'
'Fracking and CSG should be banned across the country. Other countries have banned it. The Nats have let down this community,' he said.
Mr Johnson said it was 'short-sighted cutting social services across the board'.
'The issues for young people, in Ballina at least, relate to being able to get home at night and accessing and being aware of the services that are available. Cutting services costs society more in long run.'
He added that he supported public operating theatres at Byron Central Hospital and also the upgrade of theatres at Ballina Hospital. 'For a growing region with large amount of tourists we need operating theatres,' he said.
'Kill holiday letting'
The most Byronian of the candidates, independent Matt Hartley, certainly had some colourful and populist solutions for Byron's endemic problems.
The solution to traffic coming into Byron was to erect a tollgate and the cost of rentals would come down if holiday-let bans were enforced and landlords were then forced to rent to locals at lower rates.
'If you really want affordable housing, you need to bite the bullet and build public housing. If you build 2,000 houses you'll kill local housing values, which will drive down rental rates. If you want to fix housing prices vote for me and kill holiday letting,' he said.
Mr Hartley said less holiday letting would mean less tourist traffic and fewer commuters as locals found places to live nearer to work.
'As long as you remain committed to strip development, it's always going to be a nightmare. Any growth in tourism needs to be oriented around people not bringing cars in the first place.'
He said a 'feasible and profitable alternative' to the West Byron development would be 'to expand koala habitat and put in a business that is around humans interacting with animals'.
Mr Hartley said that if Byron really wanted to become fully sustainable it should be borrowing money against government bonds while interest rates were low. 'If we have fixed borrowing period, 10 years at 2.55 per cent, we have a no brainer if we get solar returning 5 per cent plus. The government can finance that now. CSG is waste of time and almost unprofitable.'
Example to the world
He ended by encouraging people to vote independent and promised in turn to consult the people if elected.
'If you want to ensure you get services of any sort you need to vote in an independent who'll have more squeeze.
'The public has been ahead of politicians on every issue. For example on gay marriage the public is way ahead, on emissions trading systems, the public is way ahead.'
'The responsibility of government is to bring the people's agenda before parliament, not to rule. If politicians can't convince the citizens in the merit of a rule, it's obviously no good.
'People who turn up to meetings like this, care and are informed. You could be instructing an MP on how to vote – and be an example to the world.'
All NSW Election 2015 Articles
More NSW Election 2015 news and articles