Ballina is keen to become a trial site for 'sonic mesh' technology that could help prevent further shark attacks at local beaches.
Ballina's mayor David Wright and Tweed mayor Gary Bagnall met with shark experts yesterday to hear about news technologies to keep beaches safe.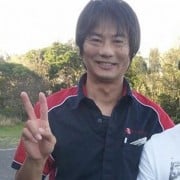 The meeting came after 41-year-old Tadashi Nakahara was killed by a Great White shark that tore his legs off at Shelly Beach, near Ballina, last month.
It was Australia's fourth fatal shark attack in five months, and the second in waters around Ballina.
Since 1905, there have been 33 attacks and seven fatalities in Ballina waters.
The day before Tadashi was killed, another surfer was bitten by a bull shark while surfing at Seven Mile Beach near Lennox Head.
Cr Wright said the meeting included representatives from the noNSWsharkcull group, Sea Shepard, Australian Lifeguards and Australia Aerial Patrol.
'Aerial Patrol can film live footage to someone on the beach with an ipad, which looks good to us,' he said.
'I spoke with the Tweed mayor about the viability of a plane flying along the coast between Tweed and Ballina and we'll talk more about that.
'The lifeguards are pushing for towers near patrolled areas that would allow beaches to be better surveyed. They are about $100,000 and we could look at doing that.
'There was a lot of information and now we've got to take it away and talk about it.'
Cr Wright said he was particularly interested interested in sonic mesh technology, which involves sonic buoys placed on the bottom of the ocean.
'The group noNSWsharkcull met with premier Mike Baird last year who allocated $100,000 to be used for research.
'I volunteered Ballina as a site for that research.'
Cr Wright said despite the recent attacks, beach-goers had not been deterred from entering the ocean.
'The beaches have been full ever since,' he said.
As for the young surfers who helped bring Tadashi back to shore after the fatal attack, Cr Wright said all efforts were being made to help get them back in the water.
'We tried getting them back in the water on Saturday but it was too rough so we'll try again this weekend,' he said.
Cr Wright said the council was considering erecting a memorial to Tadashi, which was likely to be a bench seat with his name on it, and the young men would be recommended for a bravery award.
He said not one person since the attacks had suggested that sharks should be culled.
'We haven't got the time, the want or the need to go chasing sharks,' he said.
'They've been around a lot longer than we have.'