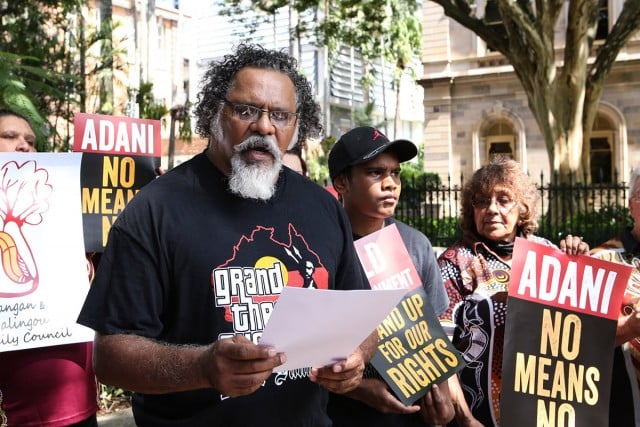 The Wangan and Jagalingou (W&J) people announced on Thursday they have rejected an Indigenous Land Use Agreement (ILUA) with Indian giant Adani to build the huge Carmichael coal mine in Queensland's Galilee Basin. The W&J are the Indigenous traditional owners of the lands earmarked for the mine, and of much of the Galilee Basin.
The 60 million tonne per annum Carmichael coal mine would be the biggest in Australian history and in the Southern Hemisphere.
This mine is the reason Adani wants to build one of the world's largest coal ports at Abbot Point on the Great Barrier Reef coast.
Six days after the W&J people refused a land use agreement with Adani, Adani took legal action to override the W&J people. If successful, this will allow the Queensland government to compulsorily acquire W&J's land and issue a mining lease for the Carmichael mine.
The W&J are now seeking talks with the new Queensland Labor government to call on it to refuse to support Adani's legal action against them, rule out any compulsory acquisition, and reject Adani's application for a mining lease for Carmichael.
W&J spokesperson, traditional owner Adrian Burragubba, said, 'The new Queensland Labor government has an opportunity to step up now, and do the right thing.
'We call on Premier Palaszczuk and minister for mines Anthony Lynham to rule out compulsorily acquiring our land.
'If they approve Carmichael, they will be responsible for the death of our land, and our connection to it going back to time immemorial.
'The W&J people have never given our consent to Adani's massive mine and never will. It will destroy our ancestral lands and waters, our totemic animals and plants and our dreaming.
'We are putting the government on notice that we will do whatever it takes to stop it.
'Adani is a multibillion-dollar bully with support at the highest level of the Australian and Indian governments.
'It's used its power to ruthlessly trample traditional communities in India. It's trashed the environments they've lived in and worked for generations.
'Now they're using our legal system and corporate power to try to crush us.
'The worst part of it is that the federal and Queensland governments have sided with Adani.
'Both Federal environment minister Greg Hunt and the former QLD LNP government minister approved the mine. They're fighting on the side of a rich foreign multinational against us,and betraying their obligations to protect W&J's rights.'
See the W&J website at wanganjagalingou.com.au.