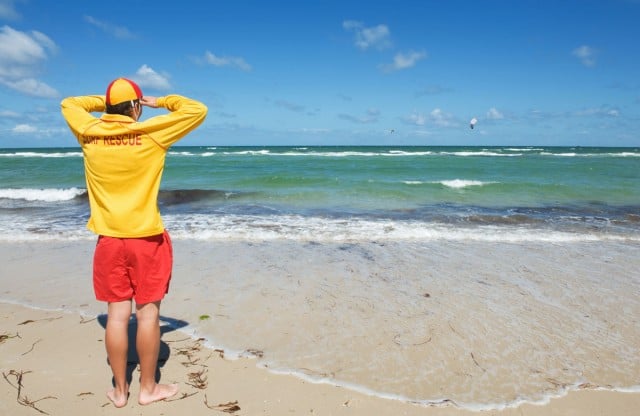 With just weeks remaining before the flags come down for the final time in the 2014/15 patrol season, the Australian Lifeguard Service and Surf Life Saving NSW are urging all coastal water users to remain safe and look out for each other while enjoying the state's beaches.
A relatively warm start to autumn, the Easter Break, and NSW School Holidays all point to a busy month for lifeguards as the season winds down, but the emphasis will remain on public safety.
'In excess of three million people have attended an ALS patrolled beach this season, and our lifeguards have performed over 500 rescues', says ALS Coordinator Brent Manieri.
'Sadly there have been 27 coastal drownings in NSW this season, and we strongly encourage everyone to look out for one another while at the beach.
'There's been a greater emphasis on preventative actions this season, we want our lifeguards to be able to identify hazardous situations before they become an issue, and so far almost 200 000 preventive actions have been taken.
'We want people to enjoy the beach and all it has to offer, and our main aim is to keep everyone safe.'
The importance of having patrolled beaches was highlighted earlier this week after lifeguards pulled an unconscious woman from the surf at Salt Beach on the state's Far North Coast. The woman who was holidaying in the area was resuscitated by both lifeguards and paramedics and is expected to make a full recovery.
The Australian Lifeguard Service will be patrolling beaches throughout the state with most finishing up later this month. In Northern NSW Tweed, Main Beach Byron Bay (year-round), Ballina, Richmond, and Clarence will all be patrolled.
Around the Mid North and Lower North Coast regions Great Lakes and Port Stephens will also have lifeguards stationed on their beaches, while Munmorah, Pittwater, Shoalhaven and Mollymook in the state's south will all be patrolled by professional lifeguards.
Volunteer lifesavers along the NSW coastline have also had a busy season dedicating an incredible 562,000 hours of patrol time to date keeping our beaches safe. Their vigilance has also resulted in 5,223 rescues, and 8,028 first aid treatments performed.
NSW Lifesaving Manager Andy Kent praised the commitment of the volunteer lifesavers, and urges beachgoers to take heed of any safety warnings.
'Although it's late in the season, it's still just as important for people to swim between the flags where lifesavers are monitoring conditions and ensuring people are safe.
'If you do get into difficulty, don't panic and signal for assistance. Our lifesavers are extremely well trained and happy to answer any questions about the conditions or how to enjoy the beach safely."
'I would like to thank all our volunteers who do so much work on the frontline to keep people safe each season.'
Volunteer lifesavers will continue to patrol beaches until the official end of the season on Sunday April 26.
Keeping Safe at the Beach:
At the beach, follow these simple safety tips –
Always swim between the red and yellow flags
Read the safety signs
Ask a lifesaver/lifeguard for safety advice • Learn how to identify a rip
If you need help, stay calm and attract attention
Always wear a lifejacket while rock-fishing
If witnessing an in-water emergency call Triple Zero-Police
For full details on which beaches are patrolled and patrol times go to Beachsafe.org.au, or download the app.
The roster for this weekend at the Byron Bay SLSC is:
Saturday 11.4.2015 PATROL NO 6:  9am – 5pm 
Sarah Beadman PC(D), Jamie Bridgman APC (D), Nikki Rountree, Keith Renders, Joe Avery, Vicki McCain, Andrew Houlder, Max Hulbert, Roger Beadman (D,J/S) Ian & Liz Callan, Robert Brown, Robert Siebert (D), Gai Coleman
Sunday 12.4.2015 PATROL NO 4:  9am – 5pm
Brendan Irwin PC (D), Adam Clark APC (D),  Dion Carter, Murray Saul, Andrew Booth, Declan Booth, Aaron Chant, Robbie Bass, Alistair Page, Kalle Jarvela, Steffen Westerman.
Send us the roster for your club this weekend – email: [email protected]