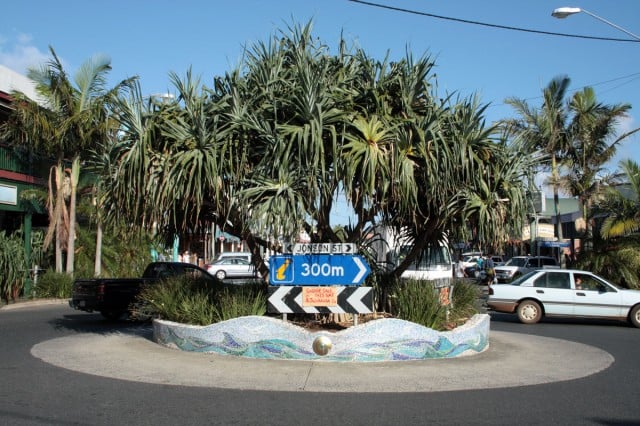 Hans Lovejoy
With all the roads and large-scale developments planned for Byron Bay, Byron Shire Council staff have requested a $50,000 budget be allocated for a traffic study to 'determine construction priorities on Ewingsdale Road.'
To be voted on at Thursday's Council meeting in the Mullumbimby chambers, the report would aim to 'Determine the priority order for the construction of intersection upgrades on MR545'.
What's an MR545? It's bureaucratic code for the two roads which run into Byron CBD (Ewingsdale Road) and Broken Head Road, which runs from the town towards Lennox Head.
Staff say roundabout modelling along Ewingsdale Road is needed, as is assessing 'the impact of the rezoning proposal for seniors living and commercial development at Ewingsdale.'
The last traffic study, of which there have been many, was conducted in 2009 by consultants Opus.
But the application for a traffic study by council staff has been questioned by the Byron Residents Group and Butler Street residents.
Paul Jones from the Butler Street Community Network said, 'Council is proceeding with Butler Street bypass with out-of-date and inadequate traffic modelling. Setting up a traffic model is a substantial undertaking and if they are to proceed with new studies then why not update the data and predictions based on RMS guidelines and new proposed populations for West Byron?'
'West Byron developers paid for their own traffic modelling, so why are the development proponents for Ewingsdale's seniors living/commercial not required to pay for their traffic impact
'Why would Council be investigating a roundabout at Kendall Street [which runs to Belongil off Ewingsdale Road] if it were not to allow a bypass link along Byron Street road reserve [which runs parallel to Ewingsdale Road close to the CBD]? This well identified bypass link needs to be brought forward now as a study item.
'Any new modelling should include alternatives, particularly those previously identified in council's reports, ie the previous MR545 study concluded with, "Options for future adaptive use of the rail corridor should remain open until the future of heavy rail transport on the line is resolved."
'Further a working traffic model for the town is an essential master planning tool.
'There is no mention of master plan process. Are we duplicating or considering the master plan role?'
No sense: BRG
Furthermore, The Byron Residents' Group's Cate Coorey said, 'It doesn't make sense for Council to be committing $50K to doing a traffic study to look at the impact of the so-called Ewingsdale "seniors" development that has not even been approved yet.
'The developers, not ratepayers, should pay for that study, especially since the community resoundingly rejects that development and it was already recommended against by Council staff and the local office of the Department of Planning.
'These piecemeal approaches to traffic planning are ridiculous. We have $200K being committed to an extra lane on Shirley Street; we have the Butler Street bypass that Council is pushing while ignoring alternatives such as the rail corridor and yet there is no plan to properly assess exactly what volume of traffic would be flowing along this bypass or into town.
'The biggest issue is the traffic that will be generated by West Byron. The developers' traffic report that the minister relied on – apart from being seriously flawed in its methodology – only assessed for 860 dwellings. The minister's rezoning was for almost double that at 1,500 dwellings with further divisions down to 150 sqm, so potentially over 2,000 dwellings.
'Why are we looking at a bypass that doesn't account for that massive inflow of traffic and why isn't Council assessing all the future traffic?
'Is it because we know that the Butler Street Bypass will do almost nothing to ameliorate such a massive traffic volume and that Don Page's "gift" of $10 million for a useless bypass will be taken away if we don't do the bypass the Nats want?'
Staff replies
In reply, council's manager of assets and major projects, Phil Warner, said staff were seeking additional information to supplement the MR545 study which will help determine funding allocation for intersection road works.
'The study has a number of trigger points that have been met. This includes roundabouts for McGettigans Lane, Bayshore Drive, Sunrise Boulevard on Ewingsdale Road and potentially Clifford Street over on Broken Head Road.
'The additional information will revise the intersections' road capacity, which roundabout should be constructed first and possible impacts on traffic if two were built at the same time.
'With limited funding available, we need to prioritise which one comes first and hence the need for the additional information.'
Mr Warner said the previous MR545 study did take into account the West Byron development and the study is still relevant.
'What it ultimately told us was that we need a bypass and other key works. This has not changed.' He said the proposed Byron Bay Bypass will also have a traffic and transport assessment, which will include some basic traffic modelling for the bypass route, as part of the Environmental Impact Statement.
On the issue of the proposed Ewingsdale seniors living development, Mr Warner said council has already requested additional traffic modelling for the area and this cost will be charged to the developer.