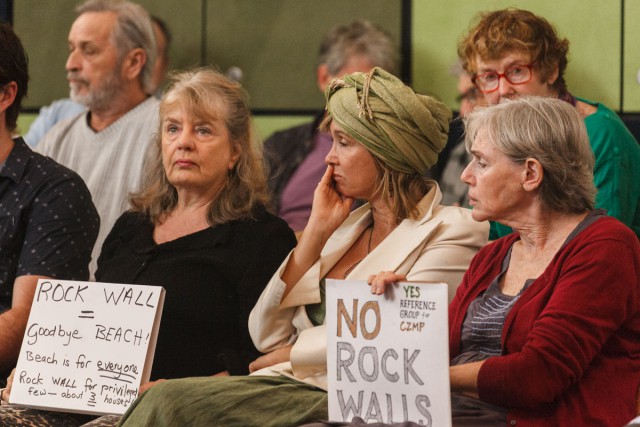 Hans Lovejoy
A packed gallery of protesters didn't persuade the majority five councillors committed to erecting rock walls at Belongil at Thursday's meeting.
The decision to go ahead with rock walls at Belongil is expected to set a precedent for other coastal areas throughout the state, but is mired by a lack of scientific, state government and council staff support – as well as its secrecy.
It also marks a reversal of nearly 30 years of Council's planned retreat policy, which required landowners who bought after 1988 to relocate their homes if a large storm event eroded their property.
In addition, the project is to be 'expedited' before a coastal zone management plan (CZMP), which all coastal councils are required to undertake, has been completed.
Adding to the planning quagmire, this project will need a sand nourishment plan in place to replenish the expected sand that will be lost. One option on the table is to pump sand from Cosy Corner at Tallow Beach through to Clarkes Beach.
Fierce exchanges between the gallery, speakers and councillors Ibrahim, Wanchap and Cubis erupted during morning access but it was later in the day, after the residents left, that the decision was passed by majority councillors Ibrahim, Wanchap, Woods, Hunter and Cubis.
The works are called interim beach access stabilisation (IBAS), and are to be carried out at Manfred, Border and Don Streets at Belongil Beach. A further $60,000 of ratepayer's money was splashed at the project bringing the total expenditure to over $1.2m, with $300,000 being contributed by landowners of three affected properties.
Cr Chris Cubis penned the successful motion, which will also see the confidential report on the project published, except for the tender quotes.
A $1.2m quote has been accepted from Hardings Earthmoving,
And in a rather bizarre development, a press release will be generated to explain that three landowners contributed to the project and, 'advise the community of this generosity.'
Finally, a letter will be sent to the minister advising of the progress including a request for 'consideration of the original $300,000 grant, or part thereof.'
It was also confirmed that the agreement between the council and those landowners had been signed, however a staff memorandum dated May 21 says, 'At close of business last night we had not, however, received the required $100,000 payment from Mr and Mrs Vaughan. Council is currently holding $300,000 cash from Shuttlewood Pty Ltd and a $100,000 bank guarantee supplied by Mr and Mrs Burke.'
Council staff have asked those landowners for clarity and confirmation of three proposals.
Meanwhile, a day of action to save Belongil Beach from rock walls is planned by residents for June 7.