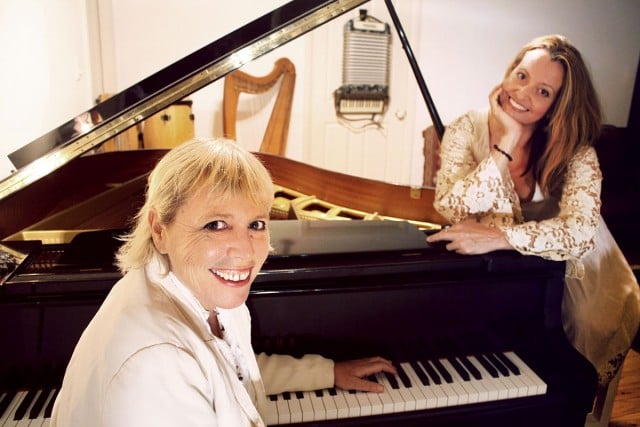 Carmella Baynie and Yantra de Vilder join forces for Sacred Journey – a special meeting of two kindred spirits devoted to the exploration of sacred music. With Yantra on grand piano, keyboard, guitar and harmonium and Carmella on vocals, harmonium and guitar, and music in Latin, Sanskrit and Aramaic.
Carmella and Yantra both spoke with Seven about coming together for their show.
What was the inspiration for you two to start working together?
C: We first played together more than 30 years ago in the eastern suburbs of Australia every Sunday at Osho satsang. We all explored music as meditation in those days and it was always very beautiful. We played music together again in the 90s with the release of my album on the national charts, with various tours and television appearances. Much of the noughties was spent involved in our own various musical forays. We recently came together this time for a dear friend suffering the scourge of cancer, to raise funds for her treatment. I guess you could say we missed playing together! We decided to take it on the road and pick up where we left off.
Y: A beloved friend of ours, Vera Howoshka, was going through a battle with cancer and we wanted to help with medical fees so we came together in a series of concerts whereby we could by using our gifts of music to help her with her medical fees. Sadly we lost Vera a month ago and so it feels like our concert in Byron is an extension of our work for our dear friend.
How do you complement each other's work?
C: We are, both of us, dedicated to using music to bring people to a place of upliftment, dedicated to using music as a kind of medicine, in a transformative sense. We have stripped our sound back to mostly grand piano and voice, which really kind of takes you to a place of vulnerability, simplicity, with a classical thread as a nod to the purity of Gregorian hymns, church music and bhajans – love songs to the divine.
Y: Carmella is the voice – I am the sound that carries the voice.
How do you incorporate spirituality into your music?
C: In my mind, music is spirituality. Melody – where the soul takes flight. Harmony in music mirrors harmony in nature, just as discord can too. Rhythm is the heartbeat that runs through every living thing. Singing prayerful tunes in holy languages has been described in the ancient Vedic texts as the spiritual practice for our age – the Yuga Dharma. It is brimming with spiritual 'ness'; I can't live without it.
Y: These days I tend to be somewhat cautious around the term spirituality – as I believe that it is a word that has been misconstrued by the negative connotations that the political structure of religion brings. To me spirituality is reflected in the essence or spirit of an endeavour. In terms of music, it is as close as the heartbeat, the rhythm, the breath – in and out. It is impossible to separate the spirit of the muse that descends from the actualisation of the creative act whenever we are present to the artistic moment. So I incorporate spirituality in my music by knowing that even though I diligently practise my craft, ultimately it is a gift that comes from the beyond, and as such I enter into each performance as a prayer.
Is it part of your bigger practice as a person?
C: My daily practice incorporates around 2.5 hours per day of chanting. It is my life and soul and carries me through. Mantras are full of potentiality, shakti, lifeforce. It plugs me in!
Y: At the moment my main artistic practice is concerned with the final stages of my doctorate in creative arts and my research question is: 'In Search of the Artistic Moment'. This artistic moment is an experience that is engendered through a creative act, whereby the audience and the performer lose a sense of time and personality – for a moment (or two). This question is at the heart of all of my creative projects; indeed it is what I am striving for in all my activities – to lose a sense of isolation, and to merge into the greater world that collaboration has to offer.
What did you set out to achieve with your collaboration?
C: It all came together spontaneously and was born out of the love of a friend; with intention such as this, it added a purity to the collaboration. Again using music as a potent medicine.
Y: My goal is to lift the hearts of all who are involved with our music. Originally we began our work together as a healing for our friend Vera, but it has turned out to be a healing for us. Ultimately my aim is that together we can create something bigger and better than we could do as individuals alone.
Why do you think so many western people are drawn to chanting?
C: Chanting together is performed best in groups and in the public setting, thus setting the scene for feelings of unity and oneness. When these prayers and chants are sung in a congregational setting they can radically change the heart. Chanting is said to 'cleanse the heart of the dust accumulated for years' – Ceto Darpana Marjanam. It is a purifying experience. It empowers people to sing together, regardless of creed or lineage. When sung together with a vulnerable heart, it is gloriously raw and ecstatic.
Y: Chanting provides an opportunity for people to come together in a communal way and sing in an environment that is non-judgmental. The words are usually pretty simple and repetitive so I believe that it is an ideal way to provide the community with an alternative to a karaoke evening at the pub. Many of us have explored eastern mysticism to find a deeper sense of meaning, and the science of breath associated with the act of singing has been scientifically proven to create altered states of consciousness that are beneficial for wellbeing. Ultimately people are drawn to the feelgood factor.
What does Byron mean to you both?
C: Is it significant coming back to play here? When I first arrived in Byron Bay (circa 89) it provided me with an opportunity to change my life completely and immerse myself in music, meditation, nature and community 24/7. Having lived back in the city for a while now, I realise that what Byron gives us is very rare and an incredible privilege. It is indelible. Forever etched in my heart. My spiritual home…
Y: Byron feels like home to me. I have lived here on and off for more than 20 years, and the community here operates on so many levels – the arts, spirituality, organic gardening, wellness. Geographically I believe it is one of the most beautiful places on Earth – and although we say Byron is a bubble, it is great to have a bubble of paradise that we can always return to. My Byron family means the world to me. This concert is very significant at this stage in my life.
What should we expect for your local show?
C: The concert will be a multimedia performance, exploring sacred world music, from ancient to original, vocal and instrumental, with special guest traditional instrumentalists. We will be performing some of the most profoundly beautiful hymns from across the universe and back again. Exploring divine love and the poetry of the great sages since time immemorial.
Y: I will play an improvisation set to beautiful imagery that honours our planet, and then Carmella will join me onstage and we will explore the sacred music of many different areas from around the globe, from Sanskrit through to Aramaic and western European. There will be opportunities for the audience to sing along and experience the sacred artistic moment with us.
Sacred Journey with Yantra de Vilder and Carmella Baynie on Saturday 16 May at the Byron Theatre at 8pm. Bookings: byroncentre.com.au – $25/20.