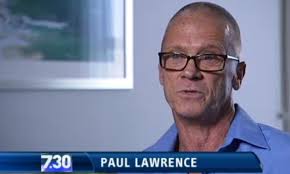 Darren Coyne
Paul Lawrence believes he is the luckiest man alive despite having had a tumour the size of a football removed from his spine.
Mr Lawrence will be in Nimbin on Saturday to share his story of surviving two operations, over 20 hours each, to replace three vertebrae in his spine with other pieces of bone from his body.
But the main thrust of his story will be how he has used cannabis to treat pain, where pharmaceutical drugs had failed.
To achieve the remarkable feat of rebuilding his spine after removing his tumour, doctors used around 60 pieces of titanium to knit together his remaining spine, using five ribs, and later, a piece of his leg bone.
And while he used pharmaceutical pain-killers for more than 10 years to manage the chronic pain, he said he now uses only cannabis.
Mr Lawrence, 53, recently appeared on the ABC's 7.30 report to share his story, and is not shy of advocating that cannabis is more effective.
He will be guest speaker at the Nimbin Hemp Embassy's latest medicinal cannabis forum, which will take place at the Nimbin Town Hall on Saturday from 11am.
Hemp Embassy president Michael Balderstone, who this morning is speaking to a group of visiting nurses about medical cannabis, told Echonetdaily, that Mr Lawrence's story was further proof that cannabis provided far greater pain relief than drugs offered by pharmaceutical companies.
'He turned up in Sydney when we did the medical cannabis workshop at Rooty Hill and I gave him the mike for ten minutes.
'His story is amazing. and he's a great talker with an incredible tale,' Mr Balderstone said.
'He will be talking about his understanding and experience of cannabis use as well as his whole wellbeing strategy for dealing with pain.'
Meanwhile, Mr Balderstone said the Help End Marijuana Prohibition, HEMP Party, had recently passed the Australian Electoral Commission's registration process, which saw the Australian Sex Party recently deregistered.
'We were thrilled to get the tick of approval and it's all systems go for the next Federal election now,' he said.
'The HEMP Party has almost 5000 members on the books but we had to be certain they were still at the same address and not afraid to say yes if they got the phone call so the list we submitted was thoroughly checked, especially after the Sex failure.'
Mr Balderstone said it was important for all cannabis advocates to stand firm.
'It's never been easier for the police to bust a cannabis user with saliva testing drivers, sniffer dog searches and the endless propaganda lumping cannabis in with all other drugs when it is so completely different.
'And all this happening at the same time as we are getting confirmation the herb really is a fantastic medicine … it's appalling.
'This month's National Geographic has medical cannabis as its front cover and lead story.
' Australia is tragically twenty years behind America which first got legal medical cannabis in 1996 in California."
Mr Balderstone said medical cannabis was finally on the agenda in Canberra this week, with politicians set to consider Greens MP Richard Di Natale's bill to create a medical cannabis regulator.
'More importantly we need Aussie politicians to stop being bullied by Big Pharma and start to understand that cannabis users do so for a good reason.
'It's our choice of medicine and it works for us without negative side effects.'
'We ask that members of Parliament send a delegation to America to see how the cannabis law changes there are working with medical cannabis legal in 23 states and the plant fully legal in several.
'Surely there'd be a few hands go up for that job!'