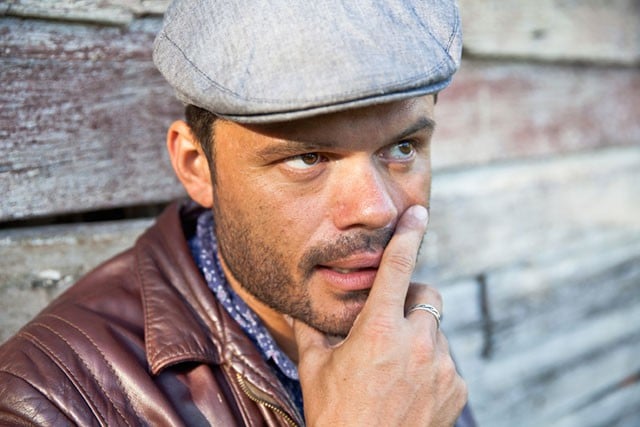 **Note Ash Grunwald is not performing tonight (Thursday June 25th). He is appearing Friday 3rd July at the Byron Theatre, $25 + BF.**
Ash Grunwald's River Tour is not just about music; it is about community. 'The writing of the whole album was influenced by my life over the last couple of years, and something that has influenced my world view has been the anti-CSG movement.'
Grunwald is aware of the criticisms politically outspoken musicians can cop and perhaps the audiences they polarise along the way.
'I went that extra mile. I can honestly say that to a large extent it goes against the musician to speak out against things. For me it's way easier to shut my mouth and not say anything. It's generally a bad career move, even if people agree with you!'
However that didn't quell the passion Grunwald has for grassroots politics. In fact it inspired his River Song – the latest single released previewing his upcoming September album.
'With River Song I initially was talking about going to Tara and seeing the devastation (caused by CSG) and meeting the people and stuff like that and it was over this good groove to get people's bodies shaking but it didn't work musically; I am trying to force myself when I feel passionate about something to try to not be so literal.'
Grunwald is a big-picture thinker who admits to being influenced by Helena Norberg-Hodge, champion of the localisation movement and an outspoken detractor of globalisation and its impacts.
'Helena influenced my thinking a lot. Xavier (Rudd) did a really cool thing; he got the whole lot of us around and we were chatting about different things and what can be done. Helena said there is a wider problem at work, and she explained what globalisation really is. That got me onto what I am thinking about and that really all of these problems do originate from this corporatocracy we find ourselves in. Even the fact that this is an old issue, how can we live in a world where we all agree greenhouse gas will be our undoing but the people who are in power who could do something about it do nothing?'
The problem Grunwald believes is our financial system. 'I actually think the radical news is that the money system is one of the key problems – although I'lI leave it to someone else to engineer a solution!'
In River Grunwald sings, 'they call you an activist, they call you a terrorist, that you want to keep your drinking water clean'.
'Surely it's not being an activist to want clean water! I would think it's more radical to say: let's drill through our aquifers – but you are more likely to be seen as a terrorist if you blow up a bulldozer – I feel like in a lot of ways, our society – we are doing the work for the propagandists in the government; we do the hushing up ourselves.'
Social media is a force that Grunwald is both positive and negative about. While he can see the power of free mass communication, he also believes it's our undoing.
'I think it's the worst thing for people's egos and their states of mind. I thought we were getting somewhere and that we were getting smarter. I had this faith that we were evolving, but we are devolving – things have become so superficial.'
An advocate of change, Grunwald believes it has to happen at governmental levels to really make a difference.
'I actually think that this is an unpopular view, but massive changes have to happen at a government level; the changes we can make to our lives at a grassroots level won't change the big things.'
In the end perhaps we're closer to the solution than we think. '… a proper democracy would be a solution,' laughs Ash.
It's a worry when the musicians are more visionary than the political leaders.
Ash Grunwald, Friday 3rd July at the Byron Theatre, $25 + BF.