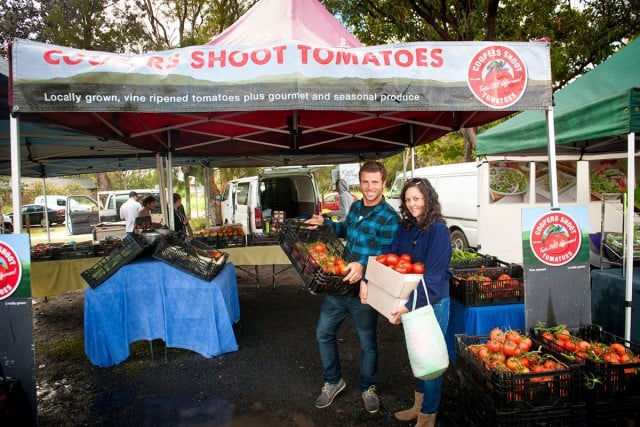 Hans Lovejoy
The Byron Farmers' Market says it has been given its marching orders to move from Butler Street Reserve in preparation for paid parking in the town.
But the claim has been hosed down by Byron Shire Council's general manager Ken Gainger; who said yesterday that there has been 'no decision' on relocating the market.
Yet at a recent parking forum, hosted by the town's chamber of commerce, mention was made that Council is preparing a parking scheme where business owners and staff would use Butler Street Reserve for all-day parking, while the rest of town would be metered paid parking.
Additionally, council will debate a report this Thursday that looks at paid-parking exemptions and the Butler Street Reserve as a parking lot.
Collateral damage
Byron Farmers' Market treasurer, Kaye Shadbolt, told The Echo that market representatives asked for a meeting with Ken Gainger last Thursday, and were informed that council, 'will not compromise to accommodate us'.
'They want a re-location to the Ewingsdale Sports Complex,' she said.
'The farmers' market conducted a recent survey which showed that 30 per cent of customers, both locals and tourists, either walk or cycle to this market, so many people would be affected by any move out of town.
'Having to move our market would have a massive impact on the 60 local, small-scale farmers that depend on the farmers' market for their livelihoods.
It appears that we are collateral damage so that businesses in town have a parking space, and the council can raise more revenue', Ms Shadbolt said.
She added that the market organisers were still 'trying to get up to speed' with the council's plans, and see no reason why the farmers market and the paid-parking trial cannot co-exist.
'Like all markets in Byron Shire, we have been operating on a temporary licence, and our licence expires early next year, so we are very worried about our future', Ms Shadbolt says.
Byron Farmers' Market members Liz and Bob Gray added, 'The current, central location with ample parking is the key to the success of the weekly market, and a forced move will inflict an enormous, needless economic and social shift.
'This callous disregard of community in favour of cars is shocking and appallingly brutal'.
The Echo asked Mr Gainger to confirm claims by Ms Shadbolt, but instead he said, 'Out of respect, we wanted to keep them informed about the projects and hear their concerns.'
'Bringing the elements of the additional needs for town centre parking, the proposed bypass, business and community together is challenging.
'There are many competing factors and talking with the market organisers is part of the process.
Integral: GM
'The markets are integral to Byron Bay and council recognises the contribution they make to the economy and the social hub they provide.
'Council is committed to ensuring that the markets continue to prosper within Byron Bay,' he said.
Meanwhile the monthly Byron Market manager Tess Cullen told The Echo she is concerned that surfacing Butler Street with gravel for car parking would affect stallholders.
She also said she believes both parking and markets can co-exist.