Julie Ray
In 2002 Byron Bay was hit with a food revolution. The revolution was the birth of the Byron Bay Farmers Market. Fifteen local farmers joined forces once a week to transform a desolate field on the north end of Byron Bay to a village food market.
Thirteen years on the same site becomes a village hub every Thursday morning. The 60 stallholders offer an alternative to the large supermarket chains that otherwise dictate what produce is available to consumers. No need to read food labels here.
Farmers markets are not just markets. They're educational systems that teach us how food is produced and why that matters.
Frank Boyle is a fourth-generation farmer from Nimbin and the president of the Byron Bay and Bangalow farmers markets. He says that 4,000 people visit the Byron markets every week and 3,000 of them are locals.
'It is more than just a food market; it is a place to meet, a place to talk directly to producers, a place to share recipes; it's a community hub,' he said. 'We are a not-for-profit organisation that gives back to the community.'
Stallholder Rachel Pearson from Heart Breads believes that a key part of the success of these markets is the tough but fair auditing system.
'This is a really hard market to get into for stallholders, which is a good thing to be part of,' she said. 'It's a hard-core farmers market that is known around Australia for its authenticity and for being absolutely genuine, which is really important.'
To be a stallholder at Byron Farmers Market you must be a local farmer who owns or leases a property in Byron or surrounding shires, and plays a direct role in the management and output of the farming enterprise. There are, however, guest stallholders who aren't from the region, such as apples from Stanthorpe.
Frank Boyle says it's important to have the guest stallholders as they are purely seasonal and it gives variety for the consumers.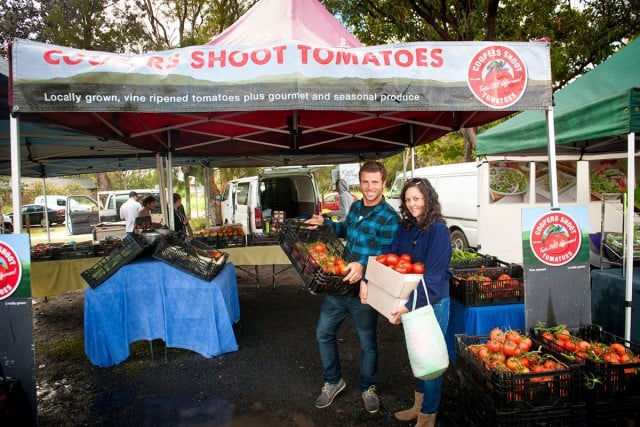 Hugh and Heather Armstrong from Coopers Shoot Tomatoes were part of the food revolution in 2002.
'If we didn't have the farmers market we wouldn't have a business,' Hugh said. 'We used to sell our tomatoes to the markets in Sydney and Brisbane; we hardly made any money.'
Frank Boyle says that Byron Farmers Market is a vital part of the week for stallholders and the community.
'Every single stall is what pays the farmers' mortgages, it's what pays their bills; it's not just something for a bit of extra cash. This is how we make our living and if this were taken away from us you would find all these farmers would have to find another job.'
Hugh Armstrong believes it is more than just a way of making money; it's a way to keep connected with the local community.
'I see hundreds of the same faces every week, rain, hail or shine, and we know all their names.'
Rachel Pearson says her customers come no matter what the weather throws at them.
'If it's a foul day I thank them for coming and they reply, "How else are we going to eat? This is where we get our food. If we don't come we don't eat."'
There is no doubt that the food revolution lives on.