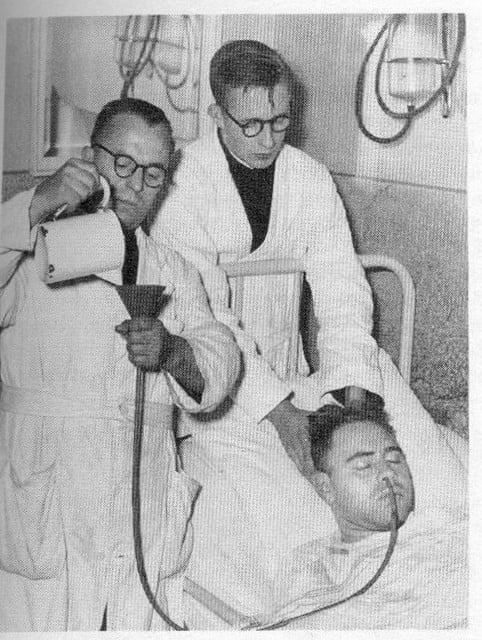 The Climate Study Group is using some pretty weird characters to back up its climate denial agenda.
An obscure collective of climate change denialists has produced a bizarre research paper presenting the position that economists might be shrieking hysterics prone to alarmist conclusions because of their psychological make-up.
And now that research paper has been sent to the Office of Prime Minister and Cabinet in the hope it will influence Australia's position leading up to the Paris climate talks.
The Climate Study Group's study is entitled 'Psychology, Behavioural Economists and Climate Change'. Initially it attracted little attention but then a large excerpt appeared as a half-page newspaper advertisement on page 5 of the climate deniers' bible, The Australian, two weeks ago.
It purports to demonstrate that the psychology of economists influences their attitude to climate change and concludes that they are susceptible to biased interpretation of data and alarmist conclusions.
The research paper categorically states:
'The hypothesis of dangerous global warming caused by human activity has not been substantiated by evidential science.
'This paper has explained how people, despite good intentions, may be influenced by bias.
'The authors of this submission recommend the case for reduction in CO2 emissions is not well founded and certainly no Australian post-2020 emissions reduction target could be justified.'
The authors, John Chalmers, Andrew Miller, Richard Morgan, Bob Officer, Mark Rayner, Graham Sellars-Jones and Tom Quirk, have sent their paper to the Office of Prime Minister and Cabinet in the lead-up to the UN Climate Change Conference in Paris starting on November 30.
DeSmog, a Canadian-based global internet site that 'clears the PR pollution that clouds climate science', rejected the group's findings, as did the Australian Psychological Society, a peak body representing psychologists.
The society accused the little-known group of misusing psychology-based arguments to 'mislead the public' on the science of climate change.
DeSmog also found that Climate Change Group members have 'links to mining, finance, agriculture and the free market 'think tank', the Institute of Public Affairs'.
The free market-loving Lavoisier Group, founded in March 2000, has endorsed the report to cabinet by posting the full text on its website. Other current Lavoisier contributors are climate denialists Lord Christopher Monckton, former UK chancellor Nigel Lawson, ex-prime minister John Howard and Des Moore, formerly of the IPA.
One particularly worrying aspect of the Climate Study Group's paper is its reliance on 'evidence' from Dr William Sargant and his book, Battle for the Mind, which is cited as a source.
Sargant, 1907-1988, was a cruel fanatic who practised psychosurgery, electro-convulsive therapy, insulin shock and deep-sleep treatment on his unsuspecting patients in London in the 1960s.
His work was discredited by fellow psychiatrists and the BBC's science program Tomorrow's World, but he continued to practise in Harley Street and argue for sadistic physical intervention in the treatment of social disorders.
One of his patients was actress Celia Imrie, star of Calendar Girls and The Best Exotic Marigold Hotel and its sequel, who survived his treatment for an eating disorder at South London's St Thomas' Hospital when she was 14.
In a Daily Mail article, 'My electric shock nightmare at the hands of the CIA's evil doctor', Imrie wrote:
'Now, more than 20 years after his death, Sargant is notorious for his work for MI5 and the CIA, particularly its covert MK-ULTRA mind-control program. Sargant's methods were simple: electric-shock treatment and insulin-induced comas leading to continuous narcosis, or deep-sleep therapy, complete with tape-recorded 'brainwashing' orders being played at the patients from beneath their pillows. And to think that all this came free on the NHS!'
Sargant's Wikipedia entry conceded that 'his distaste for all forms of psychotherapy and his reliance on dogma rather than clinical evidence have confirmed his reputation as a controversial figure whose work is seldom cited in modern psychiatric texts'.
That may be so in other countries, but not so in Australia, where the Climate Study Group is only too willing to quote Sargant's work approvingly while condemning American President Barack Obama for making a speech that 'expressed alarm about climate change threatening the future outlook for our children and grandchildren'.
The Climate Study Group observed tartly: 'Again, there is a message to cause fear and anxiety without empirical evidence.'
Sargant's foremost Australian disciple was Dr Harry Bailey, who practised deep-sleep therapy at Chelmsford Hospital, killing an estimated 85 patients. A subsequent NSW royal commission (1988-1990) resulted in the closure of the hospital and compensation payments to the survivors. Bailey committed suicide with an overdose of barbiturates.
The Climate Study Group may be unaware of Sargant's background, but, as I found, it is instantly available with a little research.