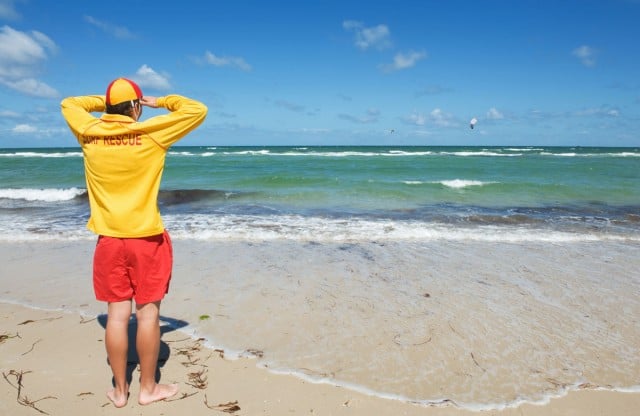 As the spring air heats up thousands are expected to make the most of the good weather and head to their nearest beach, but lifeguards are calling on everyone to be 'beach aware' these school holidays with strong swells expected along the coastline from Wednesday.
The Bureau of Meteorology on Monday issued a dangerous surf warning for the period of Tuesday 22 September through to Thursday 24 September inclusive.
A southerly swell of up 3.5 metres is expected to impact the coastline from the Far South Coast through to the Central Coast by late Tuesday afternoon.
Conditions have been forecast to strengthen late on Tuesday night with swells expected to reach up to 4 metres on Wednesday. A swell period of up to 12 seconds will also be in effect.
The Australian Lifeguard Service (ALS) resumed patrols this week for the 2015/16 season in a number of council areas around New South Wales, and are urging holiday makers to be safe while at the beach.
'During the holiday period many people head to beaches they might only visit three or four times a year, and as a result might be unfamiliar with the hazards and challenges that local knowledge brings', said ALS NSW Manager Brent Manieri.
'Our lifeguards are extremely well trained, but we urge everyone to be mindful of the powerful conditions and not to put themselves or their rescuers at risk. The sea is a rapidly changing environment, and the best advice we can give is for people to understand their own limitations, and if they have any doubt it is best not to go out.'
Mr Manieri also encourages everyone to swim between the flags at patrolled beaches, and to take the time to assess the conditions before heading out into the water.
General Safety Tips
Always swim between the red and yellow patrol flags, and assess the conditions before heading out
• Sun protection is essential – reapply sunscreen regularly, cover up with clothing, a hat and sunglasses and stay hydrated
• Never swim under the influence of alcohol or drugs or swim at night
• Plan ahead. Swim with a group of friends where possible so you can look out for each other, and always let others know your plans
• Ask a lifesaver or lifeguard for advice about the unique challenges and conditions at the beach you are visiting
• When rock fishing always make sure you are dressed appropriately, and plan ahead by carrying a phone, and letting people know your plans • In an emergency, dial Triple Zero Police
• Visit Beachsafeor download the app for information on patrolled beaches and conditions
During the September school holidays lifeguards will be on duty in the following Local Government Areas;
Tweed Shire
Byron Shire
Ballina Shire
Richmond Valley
Clarence Valley
Bellingen Valley
Kempsey Shire
Great Lakes
Port Stephens
Pittwater