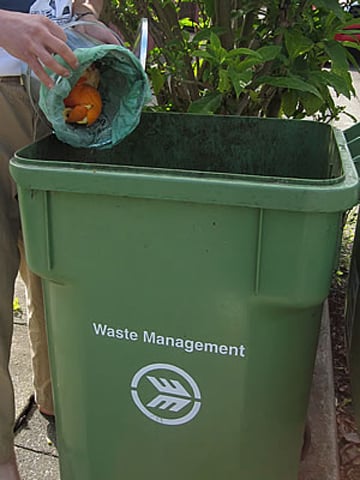 According to Byron Council staff, the first month of the shire's new organics recycling program has seen 63 per cent of our total waste recycled, up from 38 per cent under the previous two-bin service.
The additional green bin can be used not only for traditional 'green waste' but also for vegetable scraps and other material that can be composted.
Byron Shire Council's environmental programs officer, Lloyd Isaacson, said the result was very encouraging.
'In August we collected 1,055 tonnes of waste with 31 per cent being organic material, 32 per cent recycling and the remaining 37 per cent going into landfill.
'That means 63 per cent of what was collected was reprocessed or recycled.
'In comparison, during the year 2014–2015, we saw an average of 62 per cent going into landfill and 38 per cent being recycled.
'We've reduced our kerbside waste being sent to landfill waste by over 40 per cent,' Mr Isaacson said.
'We are aiming for 70 per cent of our waste to be recycled, and I'm confident we are going to reach that target. We just need everyone in the community to get on board and be a good sort with their waste,' he said.
For more information visit www.byron.nsw.gov.au/recycling-and-waste.