Big Gig for McGinlay
Australia's only three-Michelin-star comedian, Danny McGinlay, has been performing standup since the age of 16. In that time he has performed all over Australia and done stints in London, New York and the Edinburgh Fringe Festival.
For those who are thinking he looks familiar, McGinlay does do regular TV appearances: Rove, The 7pm Project, The Footy Show and even cooking up a storm on The Circle. He guested on Adam Hills Tonight and is demand as headline at the best comedy venues in Australia. McGinlay's fresh, honest humour has audiences in fits of laughter as they relate not so much to his own ludicrous experiences but to his knack for finding himself in ridiculous situations.
McGinlay made his Hollywood debut in the Nicolas Cage's thriller Knowing. 'I'm in the opening scene, so if you list the cast in order of appearance, I almost get top billing!' McGinlay is the headline at the Ballina RSL Big Gig Comedy on Thursday along with geologist-turned-comedian Peter Willey as support and Mandy Nolan as MC. Free show. Starts at 8pm.
Casino night for Byron Bay Football
Byron Bay Football Club is having a casino night this Sunday in the back room of the Hotel Great Northern. It's a fundraiser and costs $60, which includes a drink, scrumptious canapes and gambling chips for blackjack, roulette and craps tables, which can then be used at the end of the night in an auction for some amazing prizes. Kick off at 7pm!
PAN²
PAN is a diverse group of local artists producing art in various forms. PAN² is a one-off group exhibition opening at Lone Goat Gallery on Friday, using a size stipulation for its external dimensions. It is hoped that by using this formula the exhibition will be cohesive while still allowing each artist the freedom to explore their own individual means of expression.
Last Trains!
The last train left the platform of Lismore, northern NSW, in May 2004. As in so many regional towns in Australia, the train station was a thriving centre of activity and the lifeline of the community. Lismore's iconic train station is being brought back to life with a spectacular outdoor theatre event, Railway Wonderland, created by NORPA (Northern Rivers Performing Arts). Their most adventurous and ambitious work to date, Railway Wonderland was first put on the tracks of Lismore train station in 2012 and was a sell-out success. After much hard work, and repeated calls for its return, NORPA are now putting it back on the tracks for audiences to enjoy. Combining drama, dance, live music and a choir, Railway Wonderland is a magical ride across time from the 1940s to the present day. The story unfolds on the station platform with the audience in specially constructed seating across the old railway tracks.
Thursday 22 October till Saturday 7 November (except Sundays). 8pm. Lismore Railway Station, Union Street, Lismore. Street diner and bar at the train station from 6.30pm. Strictly limited seating and under cover if it rains. Tix and bookings: www.norpa.org.au or 1300 066 772.
Club Kid 
Club Lennox have come up with a fun idea for the kiddies – a Kids' Disco. With tunes spinning and the dance floor pumping, kids are encouraged to come dressed as their favourite movie character!
Of course there are lots of fabulous prizes to be won! Tuesday from 5.30pm for pre-schoolers and up to teens from 6.40pm.
Be a Pitch Bitch
After discovering that leading pitch producer Victoria Baldock has recently moved to the northern rivers (Mullumbimby), Screenworks has now engaged her to deliver their upcoming Pitching Program. By working closely with Victoria, Screenworks is planning to undertake a vigorous three-step professional-development program, which will culminate with Screenworks staff pitching northern rivers concepts at the Screen Producers Australia (SPA) Conference in Melbourne in November. Having worked professionally in media sales for more than 20 years – in airtime sales, PR and international distribution – Victoria Baldock has pitched a great many projects to a great many broadcasters.
In the initial stage of the program, Victoria will use this expertise to guide workshop participants through how to prepare a pitch and a one-page pitch document, which are essential to securing broadcaster, producer and funding interest. Ms Baldock, who is known to be relentless in her pursuit to maximise opportunities, will fill many information gaps about how best to identify market trends and understanding the different requirements each time that you prepare to pitch.
Screenworks' Pitching Workshop will be held at Bangalow RSL Hall on Thursday 1 October, 10am–1pm. For more information and tickets visit screenworks.com.au or call 02 6687 1599.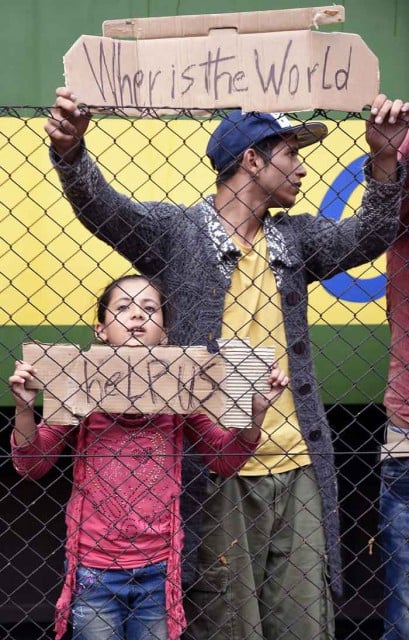 Shining a light on our refugee crisis
Sustainability Research Institute and Byron Community Centre invite you to Light the Dark, an afternoon of music, film, and conversation on the refugee crisis at the Byron Theatre this Sunday from 3pm onwards.
Light the Dark will feature photographic work by David Maurice Smith, local musicians Renee Searles and Barnaby Smith, and the award-winning documentary Between the Devil and the Deep Blue Sea, shot mostly with hidden cameras in Indonesia.
It will be followed by a Q&A with two guest speakers, a former caseworker from Nauru detention centre and a recent refugee from Afghanistan. Cakes and chai will be available with all funds going to Communify, a Brisbane grassroots organisation supporting refugees with basic living expenses and a lifeline.
If you would like to donate money, raffle prizes or have any skills and time to help in any way please contact 0412 968 841 or [email protected]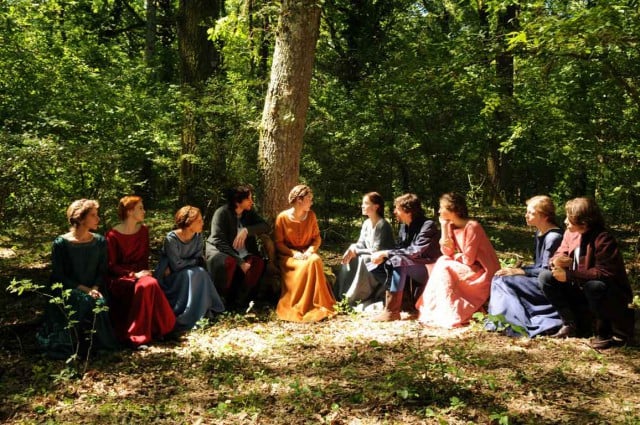 More Italian Film 
The Lavazza Italian Film Festival continues this week at Palace Byron Bay offering cinema audiences more opportunity to experience the elegance, beauty and boldness that is Italian cinema. Finishing on Sunday with a new restoration of the Academy Award-nominated The Conformist, which sees the return to the big screen of acclaimed director Bernardo Bertolucci's visually intoxicating Art Deco style adaptation of Alberto Moravia's novel about an upper-class follower of Mussolini. Tickets and programs available at www.italianfilmfestival.com.au.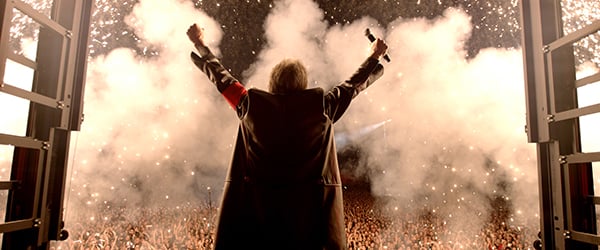 Waters on The Wall
Roger Waters, co-founder and primary songwriter of Pink Floyd, fuses the epic and the personal in Roger Waters The Wall, a concert film that goes well beyond the stage. Based on the band's ground-breaking 1979 concept album, this could well be called a concept film: it's a state-of-the-art show that dazzles the senses, combined with an intensely personal road trip that deals with the loss Roger has felt throughout his life owing to war. From the biggest worldwide tour ever by a solo artist, Roger Waters The Wall is an event movie like no other. An immersive concert experience, a road movie of Waters's reckoning with the past, and a stirring anti-war film, it is a truly breathtaking cinematic experience, giving fans the ability to experience the tour seen by more than 1.5 million fans across North America, more than one million fans across Latin and Central America and more than one million fans across Europe. Following the concert is a unique opportunity to see Roger Waters reunited with his Pink Floyd bandmate Nick Mason in The Simple Facts, an unscripted conversation in which they also answer questions submitted by fans from around the world. Roger Waters The Wall is playing in select cinemas worldwide on one night only: Tuesday 29 September. It will screen at Palace Byron Bay Cinema at 8pm. Tickets $18–20.