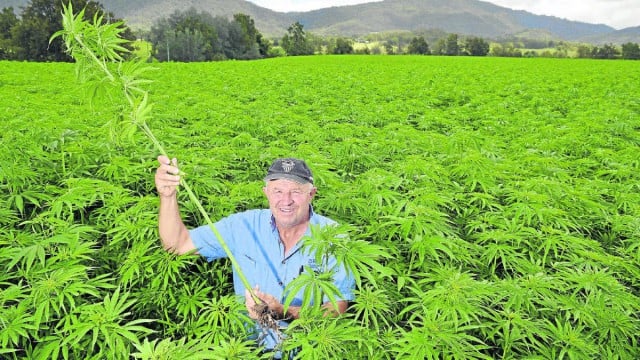 A Hunter Valley grazier and well-known industrial hemp grower will address next week's Byron Bioenergy Conference, to update northern rivers farmers on the fledgling hemp industry, describing hemp as 'almost the perfect crop'.
But he says large-scale hemp-fibre processing is still some time off with a lack of large-scale processing plant.
Bob Doyle, a sixth generation beef farmer from the Paterson Valley near Dungog, says industrial hemp, a relative of the illegal cannabis plant, doesn't need pesticides, is water-efficient and can be grown in rotation with lucerne as a break crop.
Mr Doyle's 30-hectare hemp farm in Vacy is one of several industrial hemp plantations grown legally in NSW as an alternative to traditional crops such as lucerne and maize.
The hemp industry was legalised in NSW in 2008, giving farmers a chance to sustainably boost their profits.
Mr Doyle reckons the potential across Australia is 'huge', but the main thing holding the fibre-products side of the industry back on the north coast and elsewhere is the lack of a fibre processing plant.
However, growing hemp for seed for the hemp-food industry and small-scale fibre processing for alternative building material would be viable on the northern rivers.
'The focus in the short term on the north coast is for growing hemp for grain, and there will be an opportunity for some fibre processing for hurd for hemp masonry products,' he told Echonetdaily.
'Large-scale fibre-processing mills are still a few years away.'
He said that even trial hemp crops in Victoria were hampered by the lack of such machinery and farmers there 'have had to put it in storage for future use'.
'There is no large-scale processing in Australia at the moment, but plenty of people trying.
'What is needed across the board is a co-ordinated approach, and to this end, a new national alliance of industrial hemp growers is being formed to do this.'
Mr Doyle said industrial hemp could also be used as a waste product for biochar production.
A couple of farmers in the Dungog area have licences to grow industrial hemp from the state government.
Mr Doyle is part of a group developing an industrial hemp processing mill at Dungog.
'Last season, we were a part of the largest grower group growing fibre in Australia and his presentation at the Byron Bioenergy Conference at Tyagarah on September 12 is eagerly awaited by locals keen to see the industry get a foothold on the north coast.
As the managing director of Hemp International Australia, he is keen to get the word out about the crop, but he says the issue needs 'a bit of crank-up momentum' in terms of processing the hemp fibre.
Mr Doyle was a dairy farmer until 2006, but now concentrates on running beef cattle and growing industrial hemp. He has also been actively involved in Landcare since 1990.
His company, Doyle Rural Services, have contracts spreading biosolids and managing Hunter Water effluent reuse farms
Around the world, the hemp plants' long, straight stems are used to produce a range of fibre-based products, from a base for skin-care products, paper products, textiles, paints, load-bearing masonry for building, insulation and as an additive to wool in soft-textured durable yarns.
As a natural fibre, hemp has many benefits which has generated a lot of interest around the nation and worldwide.
More recently Mr Doyle and other hemp farmers bought a Dungog timber mill which they are converting into a hemp-processing facility aiming to produce hurd for the hemp masonry industry.
Hemp fibre products can be used as a replacement for bricks and concrete in walls, with its high insulation properties.
'Hemp is a crop that has to well managed to optimise the benefits. It isn't as easy to grow as often has been promoted,' he said.
Mr Doyle will talk about how to slowly develop a viable hemp industry, in any number of regions across Australia.
Biochar movie
Meanwhile, a couple of Tweed Valley biochar enthusiasts who have produced a film about a sustainable timber plantation will premier the film at the Byron Bioenergy Conference.
Dolph Cooke and Gillian Tubbs, from Biochar Project Australia in Kunghur in the Tweed Valley, made the film 'Avachar – The Movie', about their journey on the flailing plantation.
A conference organiser said the couple's 'grassroots style of living, making biochar and teaching others has changed things forever'.
The film will be screened from 6-8pm on Saturday, September 12, including an Introduction and Q & A session afterwards.
For further information on the conference on Saturday and Sunday, September 12-13, visit www.byronbiochar.com.au